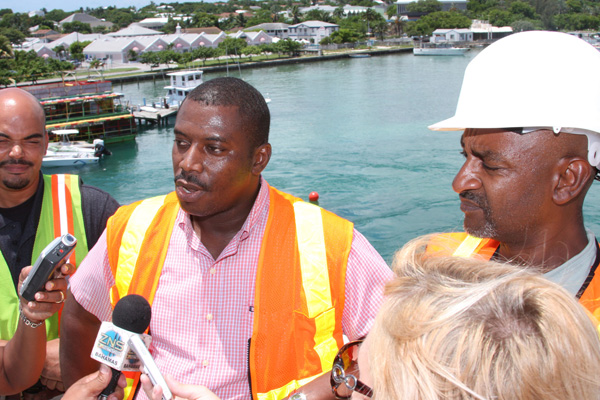 Nassau, The Bahamas – Keeping its commitment to ensuring that bridges are safe and efficient for all travellers, the Ministry of Public Works and Transport is presently conducting inspections of both Paradise Island bridges.
The Hon. Neko C. Grant Minister of Public Works and Transport in his contribution to the 2010/2011 Budget debate in the House of Assembly in June said the repair of the Paradise Island Bridge is "prominent" among the activities of the Paradise Island Bridge Authority for the 2010/2011 budget year.
Earlier this year a $400,000 contract was awarded to a consortium group of Engineering and Technical Services (ETS) a local company and ARUP USA Inc., a firm based in Cambridge, Massachusetts to undertake an inspection of the top-side and underwater structures of both bridges and prepare a comprehensive report on its findings.
Project officer Dion Munroe said the Ministry is conducting an investigation on the current conditions of both bridges and the nearby ferry dock to make sure everything is in order.
"We carry out maintenance on all infrastructure and this being the main source of land transportation between New Providence and Paradise Island we have to make sure the bridges are safe for motorists."
According to Lambert Knowles of ETS, divers conducted underwater checks of both bridges during phase-one of the three-part inspection in July.
The second phase included an inspection of decks, sidewalks and railings. Engineers are presently carrying out inspections above water.
Loay Abdelkarim, structural engineer with ARUP said, "The in-depth inspection involves looking at the underwater components of the two bridges and making sure they are where they should be given the difference in age.
"The bridges are broken into clearly designated components and we will go over them thoroughly and eventually write a report. We're evaluating the bridges to make sure they are safe for use by the public. Following the evaluation we will decide what further steps will be taken to correct deficiencies, if we find any."
Inspections on the eastern and western bridges should be completed by the end of this month and December respectively Mr. Knowles said.
Engineers have recommended that the bridges should be inspected every two years.