Nassau, Bahamas — Bahamas Press is reporting major convolutions happening now in the FNM. A morning daily carried a report which read, "FNM Councilman Claims He was paid for Silence".
Sources in the high command of the FNM tell us, that councilman is indeed former FNM candidate for the post of Chairman, Ivoine Ingraham.
Ivoine you would remember along with Johnlee was hushed into silence at the FNM 2009 National Convention when both campaigned for the Chairmanship at the conclave. Former Minister of Education, Carl Bethel, was fired from the Cabinet and appointed Chairman of the Party.
You would also remember Bethel's nomination was moved on the floor of the Convention by Prime Minister Hubert Ingraham.
Ivoine we are told by the report vows the incident will "not go into the night" as he threatened to expose the corrupt practices of the FNM inside 'dutty' politics.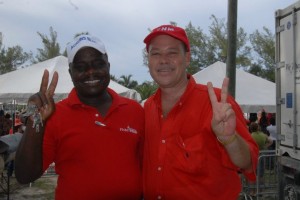 Sources in the Party's "Apparatchik" tell us, Ivoine had cut a deal with current Deputy Prime Minister, Brent Symonette at that Convention, who according to the informant, has disappeared and has failed to live up to his side of the deal concocted in the elevator of the Whyndham Hotel.
Ivoine we are told expected to also receive some appointment as did Johnlee, but he is being ignored.
An individual in the position to know tell us, Ivoine wrote a letter to current Chairman, Carl Bethel, on the matter. The two are said to be upset with the Organization, particular as news break on the Party's attempt to remove Bethel as Chairman this coming November.
Word of this latest bust up came to head just hours following the announcement by the Cabinet on the appointment of Duane Sands to the Senate.