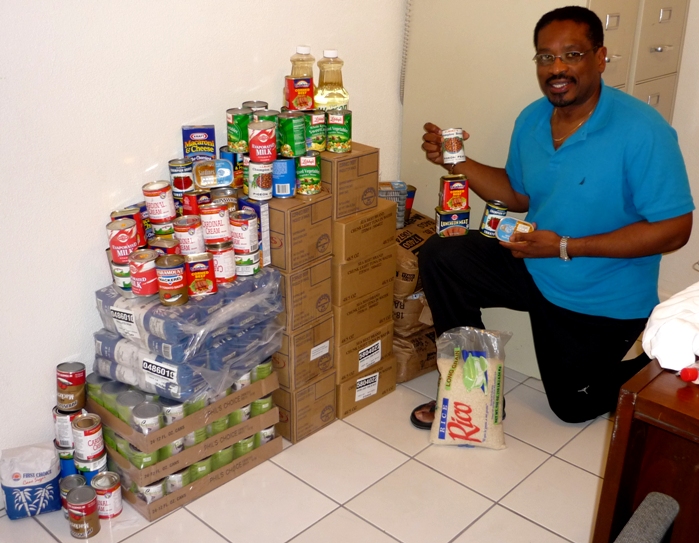 With that in mind this month, we launched a first in a series of food drives throughout the constituency to help those most in need.
The first leg of this initiative is hailed as a success, as residents of Oakes Field, Rock Crusher, and Highland Park along with others responded to the program by donating non-perishable food items to be given to those most in need. The items collected are expected to be donated sometime this week.
It's not hard to help someone in need. One just has to take stock of what is happening and be motivated enough to reach out and lend a helping hand. We say thanks to those in the community who donated, which aided in making this drive successful. We admittedly sometimes stray far from the prescribed principles of being our brother's keeper or even simply walking in love. For whatever reason, those simple acts are not followed. This is another opportunity to help those in need. Killarney has once again picked up the baton to continue the race to be our brother's keeper and to walk in love. We are committed at this juncture to helping those in need.
The downturn in the economy has led to increased numbers of persons turning out to soup kitchens, the Salvation Army or any number of other social outlets for help. But if there is desire in the hearts of all residents to help one another we can for starters DECLARE WAR ON HUNGER.
This spark to help most in need in the Killarney Community is one we hope will spread throughout The Bahamas. It's not something considered isolated to Killarney, I, urge you to simply walk in love and be your brother's keeper. Our brother's and sister's throughout the nation need help, and a hot meal or food to provide a meal could mean a lot. Do not close your ears or heart to those who need you.
A glance at the global news headlines indicate that Australia is now recovering from massive floods, as is Brazil; in China there was drought, and Russia there was fire. Aside from that food products such as corn is used for bio-fuel. Those natural disasters have long terms implications as food prices are expected to go up. With that said what could be a better time to act, than now?
This is only the first leg of the food drive. Residents in Skyline Lakes and the Lake Cunningham communities should begin preparing donations. It is suggested that at least one can of a non-perishable item be donated, as this would be required of you no more than twice a year. Certainly, we can afford two canned items per year?
"Be the change you want to see". It only takes a spark to get a fire going, Killarney, let's be that spark that re-ignites the simmering flames of brotherly love. It's not an option, we all need each other.