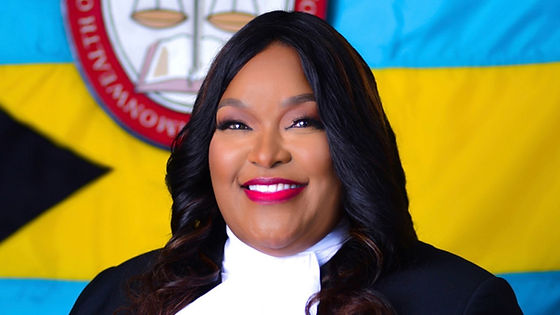 by thegallery242.com
A Supreme Court justice has become the victim of a misguided social media smear campaign after she lifted an injunction that prevented the demolition of shantytowns in The Bahamas.
On Friday, Justice Cheryl Grant-Thompson lifted the injunction that was granted in 2018 after she dismissed an application for judicial review of a decision to evict 177 shanty town residents.
It prompted an unrelenting attack on social media by Free National Movement (FNM) supporters who accused the Justice of being an untrustworthy "political tool" and urged party members to "watch her closely in the coming months" and to "prepare for political war".
On Friday, Grant-Thompson ruled, "The Court is satisfied that the Minister has the authority to remove or require the removal of dangerous or dilapidated buildings even to the point of demolishing them. Such structures would obviously pose a risk to the health and safety of the public. As a result of this ruling, the injunction which was in place covering the "shantytowns" is hereby discharged."
When the Minnis administration took office in May 2017, it promised to wipe out shantytowns throughout the country.
The government warned shantytown residents that they had until August 10, 2018 to vacate the illegal communities before demolition commenced.
In support of residents, Fred Smith, QC filed for a judicial review of the government's actions, prompting Grant-Thompson to issue an injunction.
The judge became an easy target for the FNM after she refused to recuse herself from the corruption case of FNM MP Adrian Gibson, who is scheduled to stand trial this year amid allegations that he financially benefited from the award of millions of dollars in Water and Sewerage Corporation (WSC) contracts while he served as Executive Chairman.
Gibson, who allegedly awarded lucrative contracts to his then-fiancée, first cousin, campaign general and other associates, got it in his head that Grant-Thompson would not give him a fair trial as she is the widow of a prominent Progressive Liberal Party (PLP) member. Grant-Thompson's husband Peter Bethel died 23 years ago and she has since remarried.
Eucal Bonaby of the Office of Public Prosecutions said he saw no basis for Grant-Thompson to step down.
Yet, FNM supporters – who
are still licking their wounds following the party's humiliating defeat in the 2021 General Election after an underwhelming four years in office – have unfairly criticized the judge despite her stellar decades-long career in the public service.
Over the years, Grant-Thompson has proven to be competent, fair and unbiased, hence her rise from Deputy Director of Public Prosecutions to the Supreme Court bench.
She also received numerous appointments during her tenure in the public sector, including serving as Acting Director of the Financial Intelligence Unit, and representing The Bahamas at a seminar on Money-Laundering, Asset Forfeiture and the Proceeds of Crime, in 2005.