Havana, CUBA: A former member of the PLP who often wore three-piece pinstripe suits today is sitting in a Cuban jail looking through iron stripe bars, according to BP's Cuban informant. The arrest of the MP, who represented the central/eastern area of the island of New Providence, has forced the leader of the PLP to impose a gag order on all members in the party's parliamentary caucus.
We've learned that the MP was indeed also one of three members of the Progressive Liberal Party who was ready to join the governing Free National Movement just after the holidays. Perhaps this is why the Ingraham government is silent on the matter.
Bahamas Press however has spoken to an informant out of Cuba who gave details surrounding the entire Cuban episode. Now one would remember how the MP had once apologized for boarding a plane bound for the United States without clearance. Now again he has found himself again in hot water with another country.
The sunny shores of Havana is a hotbed for Cuban delights and we don't mean cigars. Yes you guessed it, for female and in this case male prostitutes. It is a place now considered to be second home for thousands of Bahamian men.
Bahamas Press 'Deep Throat' is a Cuban translator for visitors.
"Oh I have plenty Bahamian clients," he said. "Do you know what $100 can get you in Cuba? Ahhhh my friend you would be surprised, thats why they come here."
Pointing to the situation surrounding this latest development involving the former MP, our informant had this to say.
"This guy is not new to Cuba, his desires have brought him to our country many times before. He is a regular visitor of our island and this last time was no exception.
"Our laws are not like your laws and a sexual encounter with minors, and in this case with young males is an offense in Cuba. A few weeks ago this man you asked us about was arrested in Cuba following a discovery by the Cuban authorities. He had sex with a minor and that is not accepted in our country, although it happens a lot."
Our informant then began giving details of the evening when the former MP was arrested.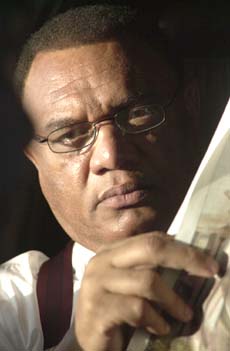 "It was a late evening sting operation and the man had in his room with him an underaged male prostitute. When officers moved in he did not realize that the entire incident was a sting operation and well he got arrested," the informant said.
Asked whether the former MP will soon be released the informant replied, "Released? You must be kidding? You don't get out things like that. This is Cuba. He will be fortunate if he gets a trial. There are many Bahamians here. Plenty men from Bahamas who are sitting in Cuban jail right now, and well, he will have to wait until they are ready to release him, if he gets released."
Bahamas Press has learned that the former MP was studying in London and had returned home for the holidays where he went to Cuba for a weekend visit. All in hopes to return to London before the end of February, however it appears that that return will not happen anytime soon.
We've also learned that this is not the only trip of pleasure to the Latin Americas by the former MP. On a trip to Brazil during the Christie administration, the then 'HOT MP' took video shots of himself and a prostitute having sex in his hotel room. The MP at the time was joined on the trip by his male pal. And, whilst one would think both went to Brazil to encounter that Brazilian peach, persons close to the MP revealed that the men went from Brazil to Cuba before their final leg journey to Nassau through Miami. The shocking revelation was that the former MP's friend was married, with a dark side urge for his travelling buddy. Something that makes you go hmmmmmm!
It now looks like the former MP's days of LUSTFUL singleness has just began, and has now landed him in a pinstriped cell in Cuba filled with men, with no sign of him being released anytime soon.