WE CAN SEE ANY DAY NOW A NEW DNA WITH GREG MOSS AS LEADER!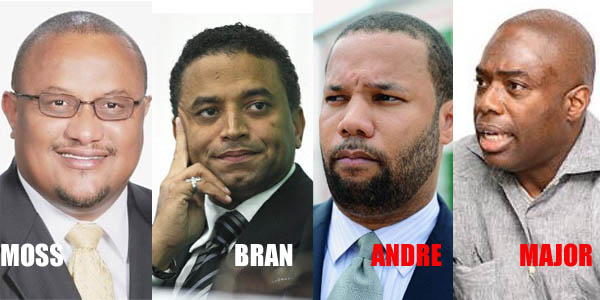 Could Branville McCartney be toppled as leader of his own GREEN PARTY? Watch and See!
Nassau, Bahamas – Fort Charlotte missing representative for three years has now left the PLP, but where has Andre 'Shay Nay Nay Dre' Rollins been spending the Constituency Allowance? BP understands that the constituency office has been moved several times due to non-payment of rent. There is never any electricity nor phone service at the office and senior PLPs had to take care of the office.
Has Shay Nay Nay Dre been spending the people's money to open his office on Harold Road? WHAT DA HELL IS DIS?
BP and its agents were in a well known eatery by the Mall of Marathon and discovered Shay Nay Nay Dre and rogue agents of the DNA having lunch!!! Branville McCartney talks about Christie not controlling his people but the man with the iron fist is losing control of the party he founded.
BP has exclusive footage of Shay Nay Nay Dre meeting with DNA chairman while Chris Mortimer lurked nearby in the distance –tink we ain't see him, eh?
For some days now Bahamas Press has sat down with sources deep in the DNA and, boy, what they tell us is now indeed shocking for the country. Many DNA supporters have mixed feelings about their iron-fisted leader and are so desperate for a voice in Parliament that they pick up the refuse waste water of the PLP. Things are happening fast, and any day now yinner will hear the news what we at BP already know!

BP has learned that the said "voice of Ft. Charlotte and cry baby Shay Nay Nay Dre" has been secretly meeting with DNA rogue members to flip his seat green. Don't forget you saw it here on BP months ago!!!! Apparently Shay Nay Nay Dre hasn't gotten over the wet slap administered by Miss Jupiter a.k.a. LORETTA BUTLER TURNER, and was overheard saying the PLP didn't protect his dignity. What da hell is dis!!!???
Our major source in the DNA whom we affectionately call "Fox Trot" was delighted to share this water tidbit with us. Fox Trot confirms that Shay Nay Nay Dre hoped to sabotage the PLP by not spending the constituency money and blaming it on Christie while at the same time holding up the budget debate and handcuffing the government.
As this all develops we know the new leader of the DNA is most likely the MP for Marco City Greg Moss. We can assure the public Renward Wells will not make the move with the group. He has concerns with his LOI signing, which has questions to be answered to the floor of the Parliament. And we can tell yinner the answers will be damning!
Shay Nay Nay Dre wanted thousands of his constituents to suffer so he could swoop in at the last minute and play savior. How selfish, coldhearted and unconscionable is that?!
Boy, they say nothing beats a woman scorned. Well, BP has now seen the womanish ways of Shay Nay Nay Dre!!! What the hell is going on in this little Bahamas? Stay tuned! BP HAS MORE TO THIS JUICY STORY!
WE REPORT YINNER DECIDE!
A MOVE IS NOW AFOOT TO TOPPLE BRANVILLE AS LEADER OF THE DNA!