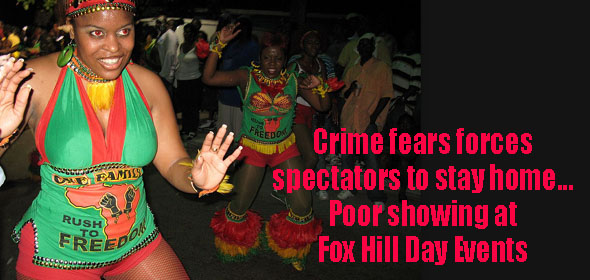 Fox Hill, New Providence — Though the government would love to believe its line, "Crime is Under Control" a telling story has come out of Fox Hill tonight where the Emancipation Celebrations are now underway.
Few spectators lined the streets of Fox Hill last night as crime fears in the community have kept residents locked indoors.
One woman told our team, "This was the most poorly attended event I have seen in Fox Hill in 35 years."
The area was as if some bomb has been dropped in the community. No cars, no traffic, no grandiose presentations and most of all no mass groups of people.
"There appeared to be more vendors and junkanooers than spectators." Except for the area MP, Fred Mitchell, who has stuck with Fox Hill like a stamp on a letter, not one FNM senior government official could be found on the parade when BP arrived.
Fox Hill Parade looked like a virtual ghost town last night, after a spree of murders have rocked the community. Our news team was fitted with newly purchased full body bullet proof suits and a security detail just for this event.These are the times we live in today across the country.
Last week a notorious figure in the area, Emperor Dion Knowles, was knocked down off his motorcycle and shot multiple times like a dog in the middle of target practice. Residents tell us they believe the country's 268th murder since 2009 was revenge for the killing of a Haitian national, Limbo, who was murdered in the area days before the death of the Fox Hill Emperor.
"I wouldn't go to the Parade this year if they told me Hubert Ingraham, Perry Christie and Branville McCartney was climbing the greasy poll. It has become so bad here in Fox Hill if you peep your head on the porch a stray bullet could take ya out," a shaken resident of Adderley Streets said.
"I never in my wildest dream believed an historic event like this would be ambushed by crime. I never dreamed I would be sleeping on the floor of my wooden home after 52 years in this community. I never imagined Fox Hill would come down to this, but look today the crime in the Bahamas has imprisoned us all. The fellas up the road behind bars and we behind bars. NO ONE IS FREE!"
What is worst was the fact that junkanoo in the community could not pull the crowd. For many years Junkanooers participated, spectators gathered and the parade danced into the morning. But not this year. One vendor told us, "I sold one bag of conch fritters the entire night. Now if I didn't know better I would have said it was the economy, but what has happened in Fox Hill is bigger than a bad economy. What we are seeing here is a war that has descended in Fox Hill and the people are afraid to come out.
"Everyday someone is getting killed and the murderers are getting bail. The innocent slaughtered and the poor are finding it more difficult to live. Something has gone terribly wrong in this country and Papa ain't saying a damn thing! He didn't even have the guts to come and hail us in Fox Hill."