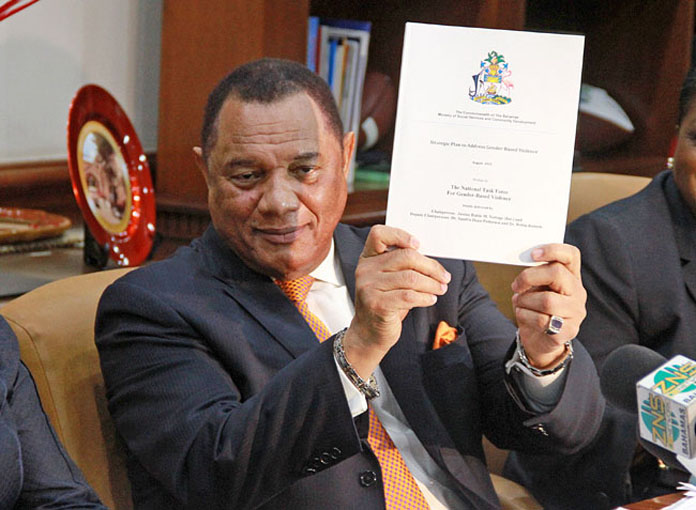 Nassau, New Providence – Bahamas Prime Minister the Rt. Hon. Perry G. Christie received the report from the committee on gender violence at the Office of the Prime Minister on Monday, 15th February 2016. The committee is chaired by retired Bahamas Supreme Court Justice Rubie Nottage
The following are remarks by Prime Minister made in his office on Monday, February 15th:
On behalf of the Government and People of The Bahamas, I want to thank you, Retired Justice Nottage, as Chairperson of the Task Force that has produced this "landmark report". I also wish to thank your Deputy Chairs: Dr. Sandra Dean-Patterson and Dr. Robin Roberts, The members of the National Task Force on Gender-Based Violence, the Bureau of Women's Affairs of the Ministry of Social Services and Community Development, which had carriage of this initiative, the Ministries of National Security, Health, Education, Youth, Sports and Culture and the Attorney General's Office and everyone who played a role in making this document a reality.
I also wish to commend the Caribbean Office of the United Nations Entity for Gender Equality and the Empowerment of Women, known as UN Women, who in June 2012, agreed to implement a project on Strengthening State Accountability and Community Action for Ending Gender Based Violence in The Bahamas. I am advised that this project has also been implemented in ten countries throughout the Caribbean and that UN Women is also assisting us with the Implementation Plan for this Strategic Plan which we anticipate will be completed within the next few months.
I first met with the Chairpersons of the Task Force in May 2014 and then again in May of 2015, when they made a presentation to The Cabinet, which was very well received.
Justice Nottage, in her remarks listed the ten programmes that will be addressed early in the implementation phase, which have been dubbed "The Ten Low Lying Fruit." I wish to focus on three of them, in the interest of time. When the Task Force presented to the Cabinet, I told Madam Chair and her Deputies that I wanted a programme that focused on males and females as well as the family. It is my belief that if we intend to put a serious dent in our crime problem, we really have to strengthen the family as a unit and empower the family to socialize our children to be the kind of citizens that we need them to be. I am therefore happy to say we will establish a Department of Family and Gender Affairs and that the plans for the Family Court System are well advanced. Both of these will help us to achieve our goals.
I am also pleased also to say that there will be a programme to address children who have been exposed to violence, whether that violence is domestic or community. This programme will be led by the Crisis Centre in partnership with the Ministries of Social Services and Community Development, National Security, Attorney General's Office, Education and Science, Health and Youth, Sports and Culture. This early intervention programme will be essential in providing the necessary tools to help children process the emotional aftermath of their exposure to violence.
Finally, there will be a strong focus on programmes to engage men and boys. We really cannot afford to lose any more of our males, be they young boys or men. The project "Reclaiming our Boys" will focus on our high school boys and will commence its initial phase with focus on the sensitization of men as champions for change. The project will focus on training programs for men to empower them with the skills to mentor our boys effectively during this critical period of their development.
All of the aforementioned projects will be implemented through further collaboration and with the support of the six Ministries (Social Services & Community Development; National Security; Education, Science & Technology; Attorney General's Office; Health and Youth, Sports & Culture) and stakeholders that worked with the Task Force.
The report also recommends the establishment of the Gender Based Violence Authority (GBV), a statutory body which will facilitate the short term implementation plan for the sustainability of the GBV Strategic Plan. The Authority is a unique creation of private and public partnership where funding can be sought from either or both areas; both locally and internationally.
As a precursor to the establishment of the GBV Authority, a GBV Secretariat will be established to ensure operational oversight of the Implementation Plan.
Much work has gone into this report by a cross-section of experts in our country, and it represents a coordinated approach to addressing GBV and by extension, crime and violence generally in our country. I again wish to commend the chairperson, her co-chairs and all those responsible for this work. While we continue to address the ongoing vexing problem of crime on every front in our country, it is important to examine the root causes, as this report has done, so that we can implement programmes to impact early mindset and behaviors that provide an incubator for deviant and criminal influences.