Minister for Labour throws the FNM under the bus and demands they return to Parliament with a cheque to reimburse the Treasury of the Bahamas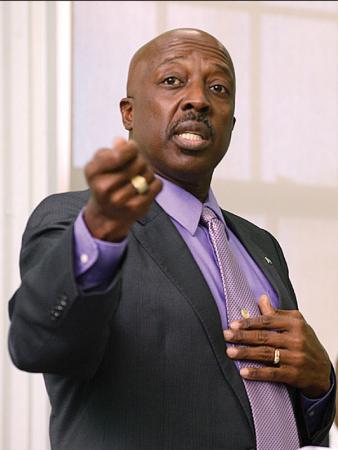 Nassau, Bahamas – On Monday, August 12, 2013, the Hon. D. Shane Gibson, M.P., Minister of Labour and National Insurance, during the debate on the Amendment to the Criminal Procedure Code, lambasted Members of Her Majesty's Loyal Opposition for failing to show up to work.
Minister Gibson cried shame on the Opposition Members for being absent during this very important debate and called on them to reimburse the Public Treasury for not reporting to work.
Minister Gibson in his address to the House of Assembly stated, "…And so it gives me pleasure to support this landmark piece of legislation. And I look forward to Mr. Speaker, the side Opposite coming here in this place and doing their job. And Mr. Speaker I would hope just as they would remove themselves from being apart of this legislative process today, I would hope that they would individually write checks back to the public Treasury reimbursing the Treasury for not reporting to work these couple of days."
The Minister of Labour and National Insurance continued, "As you know we hold all employees of the Government of The Bahamas accountable…And so I expect Mr. Speaker for these honourable men and women to do the honourable thing when they come back. To enter these chambers with checks in their hands…and reimburse the Treasury for time they had off."
Minister Gibson said one of the things that you find is that persons are very intimidated by being upfront, and being public and testifying and taking part in these criminal proceedings.
So when you find ways to try and mitigate these situations, its important for us to come to Parliament and introduce legislation that would encourage these individuals to be apart of the entire administration of justice process.
Minister Gibson said that he would hope that the members of the Opposite Side are listening to him wherever they are, and hopefully their constituents if they are on Face Book and Social Media will let them know exactly how they feel about them not being present here today for this very important piece of legislation.