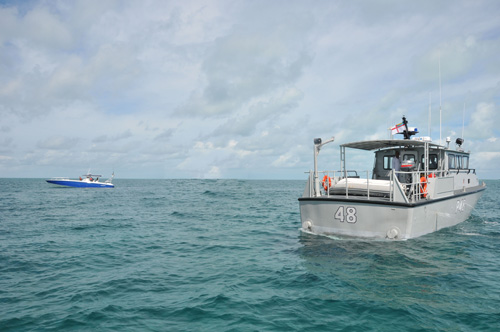 Nassau, Bahamas – Family members and friends of the four marines killed in action 37 years ago during the sinking of HMBS Flamingo along with survivors of the tragic incident will join the Officers and Marines of the Royal Bahamas Defence Force for a Memorial Service at HMBS Coral Harbour on Wednesday 10th May, beginning at 8:30 am.
Bringing remarks will be the Minister of National Security, the Honorable Bernard J. Nottage and Captain Tellis Bethel, the Acting Commander of the Royal Bahamas Defence Force. Dignitaries and family members will also witness the traditional morning colours (flag raising) ceremony held daily at Coral Harbour Base.
The Memorial will end with a wreath laying ceremony at the Flamingo Monument at Coral Harbour as well as at waterside. The Defence Force ensign will be flown at half-mast in memory of the four Marines of Flamingo, as well as those who lost their lives in the line of duty.
Overview of The Flamingo Incident:-
On May 10th 1980, after arresting two Cuban fishing vessels near the Ragged Island Chain, Able Seaman Fenrick Sturrup (age 21), Marine Seaman Austin Rudolph Smith (age 21), Marine Seaman David Allison Tucker (age 21) and Marine Seaman Edward Arnold Williams (age 23) were killed when Cuban MiG jets fighters fired upon and sank HMBS Flamingo. 15 of the ship's company survived the ordeal.