Urban Renewal 2.0 was divinely conceived, Darville says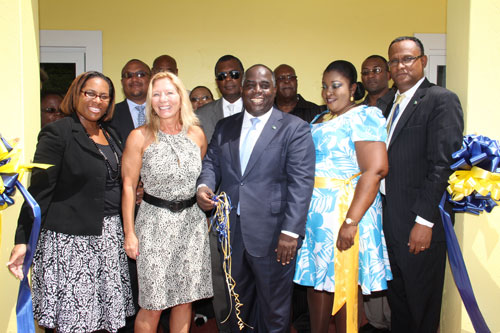 Help and Hope is here in Grand Bahama!
Freeport, Grand Bahama – Addressing the many successes of the Urban Renewal Programme since its inception a decade ago, Minister for Grand Bahama, the Hon. Dr. Michael Darville say the programme was divinely conceived.
The Minister for Grand Bahama was on Monday evening participating in the launch of Urban Renewal's latest initiative, the G.E.D. Programme.
The programme is designed for students who did not graduate from high school. Partnering with Terreve College, some 20 young persons on Grand Bahama are being offered the opportunity to acquire their diploma over the next 15 months.
The member of Parliament for Pineridge recalled that on Jan. 30, 1997, Sir Lynden Oscar Pindling, in his address to the 41st General Convention of the Progressive Liberal Party stated:" The people of our nation are the most precious resource, and therefore, national prosperity must be measured by the quality of their health, their education, their social environment and their overall self-esteem."
Dr. Darville said he was pleased to speak at the official launch of the Urban Renewal 2.0 General Education Diploma (G.E.D.) programme, "which is designed to develop our most precious resource, the youth of Grand Bahama, and to give them a second chance at completing their secondary level education.
"I am truly excited to be a part of Urban Renewal 2.0, which I believe was divinely conceived, as since its inception, has played a significant role in identifying and addressing street level problems affecting our communities, mentoring at risk youth and ensuring that residents of Grand Bahama live in a safe environment where the basic necessities of life are accessible and attainable to all.
"With the assistance of faith based groups, law enforcement officers, civic and business organisations, the Urban Renewal team, under the direction of the deputy director, Mrs. Michelle Reckley, is thriving and fulfilling its purpose on Grand Bahama," Dr. Darville said.
He said that Monday's launch was even more proof that the Christie administration, through various government entities, is indeed accomplishing its objective of investing in the education and training of youth and putting Bahamians first.
He recalled that just weeks after the general elections, on July 18, 2012, the Urban Renewal 2.0 programme was launched on Grand Bahama.
"I am happy to report that 15 months later, this programme has progressively blossomed, with six functional centres from West End to McLean's Town, the latest being opened last Friday in Lewis Yard. Since then, I have seen first-hand the fruit of Urban Renewal 2.0 on Grand Bahama.
"I have watched lives transformed and the standard of living for many improved. I have seen a renewal of the community spirit, and the collaboration of private sector partners with government to ensure that the less fortunate in the community receive a helping hand.
"This is truly encouraging and as a result, I remain committed to working directly with the entire Urban Renewal 2.0 Grand Bahama team to ensure that this programme reaches its true potential," Mr. Darville said.
The Minister for Grand Bahama said there is a local saying that a chain is only as strong as its weakest link.
"Therefore, it is my firm belief that we can only progress as a nation if we ensure that policies and programmes are put in place that would pull people out of poverty through the provision of additional education and training, employment and entrepreneurial opportunities; and ultimately bring the necessary relief to the poor, the disabled, the unemployed and the mentally impaired," he stated.
The Minister for Grand Bahama noted that for the last 5-7 years, Grand Bahama has experienced much and even today, continues to experience severe economic challenges due to the high rate of unemployment, particularly among young people.
In addition, he said there has been an increase in the number of young men and women who either did not meet the minimum requirements to graduate from high school, or dropped out of high school for numerous reasons.
"As a result, despite their abilities, they are marginalised and unable to find gainful employment. Nevertheless, this administration remains committed in its effort to invest in social programmes to ensure that families survive during these tough economic times and to create opportunities for the unemployed so that they can live the Bahamian dream.
"Subsequently, this evening, after one year of planning, Urban Renewal 2.0, in partnership with Terreve College, is launching its adult high school diploma programme.
"Understanding the importance of a high school diploma, we have partnered with Terreve College, a locally certified tertiary institution, to ensure that at the end of this intensive programme, students will have a high school diploma that would be accepted in the private sector on the island, and on completion could have the opportunity to sit the Scholastic Aptitude Test and travel abroad for further tertiary education," he informed.
Dr. Darville said he is excited about this programme because he is certain that it will bring relief and opportunities for many Grand Bahamians, including many from his constituency.
"I would also like to ensure residents of Grand Bahama that for the last year we at the Ministry for Grand Bahama have been working closely with the major industrial players on tahe island on our strategic plan to increase our man power resources of trained technical Bahamian workers, and thereby reduce the demand for short term work permits in the industrial sector.
"I am pleased to report that we are in the final stages of implementing a training programme that would play an intricate role in job creation on Grand Bahama, along with the National Training Agency, which will be launched on Grand Bahama in a matter of weeks. I encourage our young people and the unemployed, to capitalise on these awesome opportunities for training, as it is through education and training that opportunities for lucrative and sustainable employment become available," he said.
He said there is no question that things are tough on Grand Bahama but is convinced the country is moving in the right direction and brighter days lie ahead.
"I am also excited to be a part of an administration that remains committed to the people of Grand Bahama and the course to recovery. For the past three years, I have had the opportunity to work closely with The Prime Minister, and I believe that his greatest gift as a leader is his ability to connect with, inspire and create opportunities for people who are poor, disenfranchised and unemployed. Thank you Prime Minister for the demonstration of your commitment to Grand Bahama!
Minister Darville congratulated the 20 Bahamian students in the programme, telling them that we are all proud of their courage and commitment to take advantage of the programmed and advance themselves academically.
He also expressed gratitude to the private partners, "whose support of this programme makes it possible; and to encourage others to partner with us as we seek to revitalise and restore the economy of Grand Bahama and empower its residents."