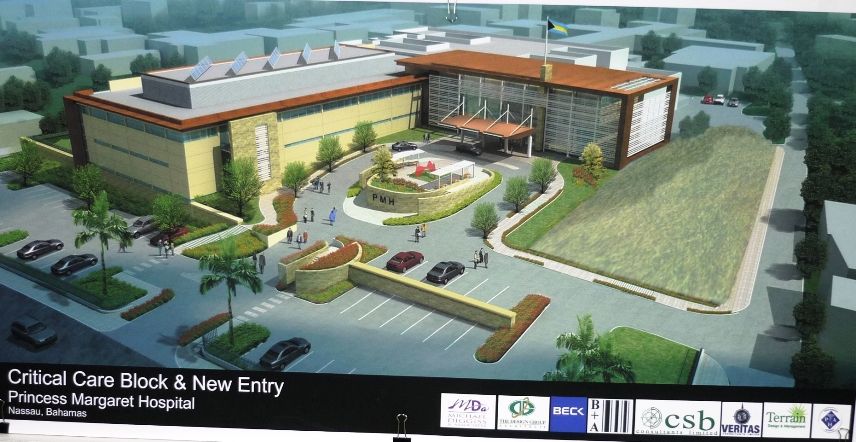 Government through the Ministry of Health is embarking on another milestone to improve the quality of healthcare provided to Bahamians.  For far too long, it appeared as though the cries of the Bahamian people, of displeasure and frustration, of long wait times at the emergency room of the Princess Margaret Hospital (PMH), inadequate beds, shortage of pharmacists and cancellation of surgical procedures has been ignored.
This is about to change as those issues will be laid to rest as a result of the construction of a new $30 million dollar critical care block at PMH.  The emergency room of the nation's health facility will be expanded to the existing General Practice Clinic (GPC), while GPC will be relocated to Fourth Terrace Centerville at the old Agape Center.  This new block creates a facility where more trauma and non-trauma cases can be treated.
Health minister Dr. Hubert Minnis explains that the three-storey critical care block will consists of 21 intensive care-unit (ICU) beds, along with 48  neo-natal intensive care beds would be housed on the third level of the structure.  For the first time, introduced in this facility will be giraffe style neo-natal beds which would allow for surgical procedures to be performed without having to move infants in need of critical care.  In addition, another first, kangaroo type care will also be included, for the care of newborn babies, which is intended to strengthen the bond between infant and parents by direct contact.
The creation of this Intensive Care Unit allows for a merging of all neo-natal intensive care units into one section, creating an additional 40 to 50 beds within PMH.  On the second floor of this critical care block, will be six new operating theatres, which create the avenue for more surgical procedures to be performed by the ever growing specialist physicians returning home.  This also means that more outpatient surgeries can be carried out, allowing more patients to remain in hospital for a shorter recovery time of a few hours, as opposed to a few days.
Our population is aging and many of our baby-boomers and elderly will require hip and knee replacement surgery, this facility would allow for the introduction of these procedures as well as accommodate much needed heart procedures.  The delay presently experienced by Bahamians from both New Providence and the Family Islands is being addressed so that quality care and service will continue to be dispensed to all patients at PMH.
The ground floor of this new critical care block will house a new laboratory block, along with surgical and medical supplies.  This three storey complex will be re-inforced, so that if necessary in the future a new labour and maternity wing can be added as an additional fourth floor.
The construction of this new facility would also incorporate a new entrance to PMH, a religious chapel and a healing garden which is known to improve patient outcomes.
Grand Bahama is not being left behind as they too are receiving renovations and expansion to their emergency room including the introduction of two new trauma rooms to accommodate the increase in trauma cases seen today.  Our emergency room physicians remain on the cutting edge of technology as they are engaged monthly with teaching via video-conferencing with trauma institutions from Florida, Canada, Central and South America. It should be noted that presentations are done by each of the involved institutions including PMH where cases are presented and are critiqued by international colleagues.