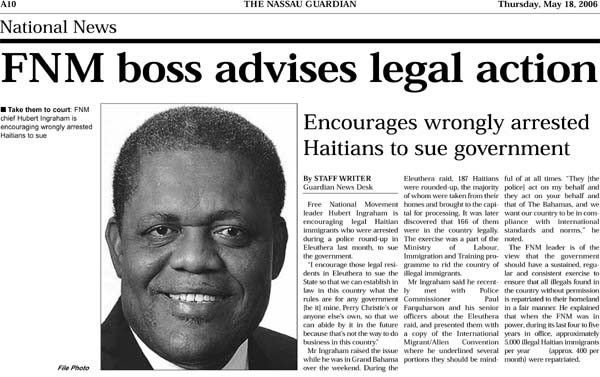 Nassau, Bahamas — Yes he said it right in the Nassau Guardian on May 18th, 2006. The leader of the FNM, then Hubert Ingraham, told members of media, that persons in the Haitian community should sue the then government of the Bahamas for what he termed illegal roundups.
We wonder what did Papa tell his bosses across the water on this? We wonder if the Guardian 'gat' the BALLS to reveal this from the pages of the WikiLeaks or as BP would say, 'Da WEAKYLEAKY'!
DA CHIEF IS A LEAK!
Papa then believed the government of the Bahamas had no right to investigate illegals and that the state should not invoke its sovereign power to review persons encroaching on Bahamian territory.
Since being elected to office Hubert Ingraham has had little to say about illegal dwellers here in the country. And his former minister for immigration Branville McCartney has since resigned from the Cabinet. Since McCartney's resignation, Papa has not appointed a new minister to the post.
Under Papa's watch, thousands have invaded the Bahamas and are now being naturalized by his government.
Today on Hawkins Hill at the Immigration office, another swearing-in ceremony of new citizens will take place and the government official doing the ceremony will advise the new Bahamians that they can go to the Parliamentary Registration office and register to vote. HMMMMMMM!
Scores of foreign nationals are being awarded billions in contracts by the FNM government, and just last week during the Budget presentations in Parliament, Bahamians witnessed the announcement by Housing Minister, Kenneth 'NOT ONE' Russell, how the FNM government's intents to build homes in the Mackey Yard area. The homes when completed he said, will be made available to the squatters who lived there before the fire.
Be they Bahamian or not, what we find amazing indeed in the focused attention by the FNM given to foreigners in the area of housing, while thousands of Bahamians wait for a new home assignment from the housing department.
With the Ingraham government having not built one new major subdivision for Bahamians, we find it shocking to hear it will proceed to provide homes for squatters. SHOCKING !!!
Not a word has come from the pen of the Tribune following the announcement! Nothing from the Guardian or any other media following Russell's revelations in the House.
The FNM sold BTC to foreigners and are allowing the foreigners to send home Bahamas; 700 Bahamians in a mass downsizing exercise to begin this week.
The FNM government grants over 5,000 work permits to foreigners every month God send; while over 40,000 Bahamians are unemployed, and an additional 6,000 school-leavers will join the unemployment lines. But in the midst of all this, they are now going to build homes for Haitians in Mackey Yard?
Boy, we love punishment eh! As our creole friends would say, "PLUS DE FEU" ! [MORE FIRE]…
WE NEED CHANGE!