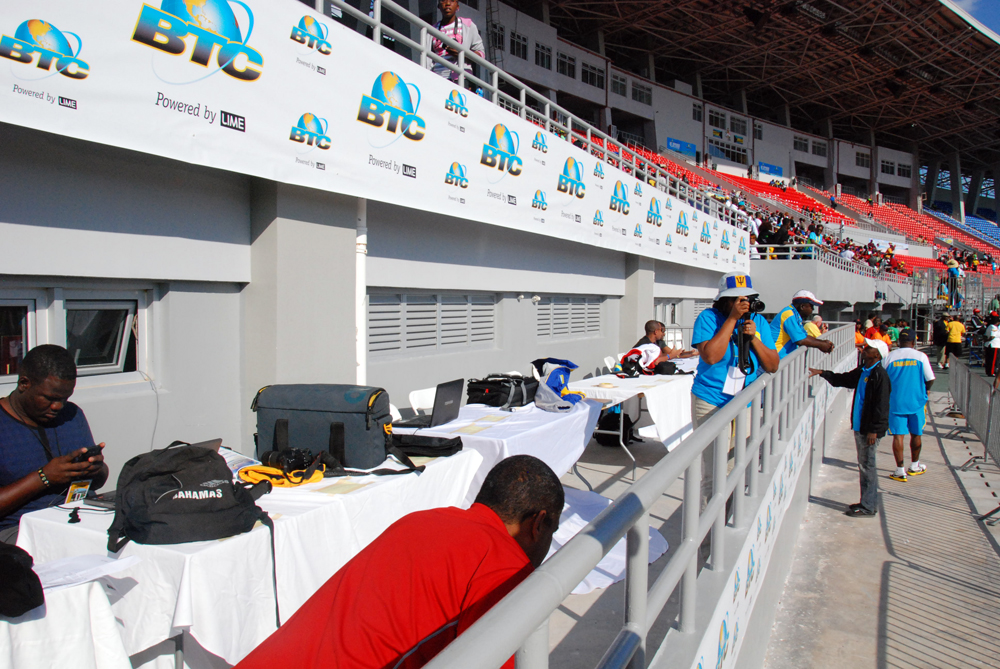 Bahamas known as the WUTLESS MEDIA Capital of the Caribbean!
Nassau, Bahamas — Less than 12 hours before the first race got underway and just under five hours before the opening ceremony, the Bahamas organizers have very little in place for the media, covering Carifta Games 2013.
The local, regional and international media were taken on a tour of the facilities late Thursday night and again Friday morning, but on both occasions, it was done well behind the scheduled time.
However, what got most of the media personnel who were present upset, was the long wait for their Games accreditation.
Many persons were yet to get theirs, even after the opening ceremony. They were issued with a card for just Friday, with many asking, "how are we going to get into the Stadium on Saturday?"
"It seems really disorganized" said Todd Garsley who is here covering for Milesplit.com. "I would like to be hopeful that they will be ready to go by show time."
Regarding the working section cordoned off for the media, there was basically nothing, but after added pressure, a makeshift area, in close proximity to the finish line, built for disabled spectators, was booked for the media.
And even when tables and chairs, covered with white cloths, (one with the name of a hospital name written on it) were provided for the media, they found out there was no power supply…. to make matters worse, one of the sponsors is a mobile and internet provider, but there is no internet – despite several promises.
Normally, there is what is called a press tribute at Meets, but the newly built Thomas A Robinson Stadium does not facilitate that. So a big concern is, what if it rains? Then the makeshift media area would be a complete disaster.
Later in the night, the media room was fitted with six computers with the internet up, …thank God, and luckily I was able to do some work after spending the entire day idle at the Stadium.
Bahamas will host the IAAF inaugural World Relays in 2014 and 2015 and they could face further embarrassment themselves if they don't put these things in place … and one would think, what better opportunity would there be for them to impress the visiting media.
Also, the entrance for the media area, at trackside, is also below par, as journalists and photographers, male and female, have to jump a barrier to get access to the track area.
"To make it easier for those journalists who are multi-tasking, I would say this system is definitely a new experience for me", added Garsley, "I know it's a huge meet; but maybe there are somethings that could have been done ahead of time."
Kermitt Taylor of Bahamas Athletics said, "I don't think it was thought through carefully … It is obvious that at the end of the system, the media will have to work very hard to provide instant updates. It is our (media) job to provide instant results, photos and track side interviews, but with the current layout, it will be very hard for us to do the best job possible."