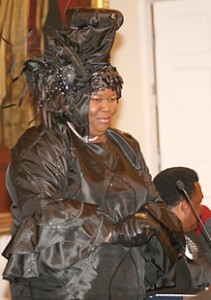 Nassau, Bahamas — A the unholy war is erupting inside the Free National Movement as longtime supporters flock to the DNA [FNM #2]. However, deep in the heart of the party's headquarters in an historic community drips gallons of kerosene as a political firestorm is about to be set ablaze.
As reported weeks ago on Bahamas Press, FNM Mama Africa was being dumped for a goblin that made a career of 'juicing' men like a track star.
The goblin, whose looks are deceiving, grew up near the Step Street area but is highly unpopular in the community. From what we know she was the longtime sweetness of a former high-ranking official of the Central Bank while she was still in her teen years. That official was also a high-ranking former board member of BTC and is now said to be in the liquor business.
Now get this, BP has the goods on the new FNM candidate for the seat in the east, who we know was at the centre of a SCANDALOUS love affair involving a former Supreme Court Judge.
The 'sex beast' juiced her way into the heart of an old 'lion of the law' and moved his hand to award her brother a contract in the millions, while knowing he was unqualified to do the work on behalf of the courts. The SCANDAL we are certain will be greatly discussed as the campaign heats up, and Bahamas Press will have more to say on that incident in the near future!
Meanwhile, 'Mama Africa' is said to be greatly disturbed over being dropped and has not been seen in the constituency or in circles in the FNM since word of her axing was reported by BP. Some tell us, 'Mama Africa' is so upset with the Ingraham government that she has refused to attend meetings in the Upper Chamber. She was invisible this past week when the Parliament met to discuss matters of national importance, and is said to be in deep meditation and lamentation with her ANCESTORS and Spiritual Advisers as she looks to the future.
We report YINNER DECIDE!