Cops pull plug on Machel in Jamaica –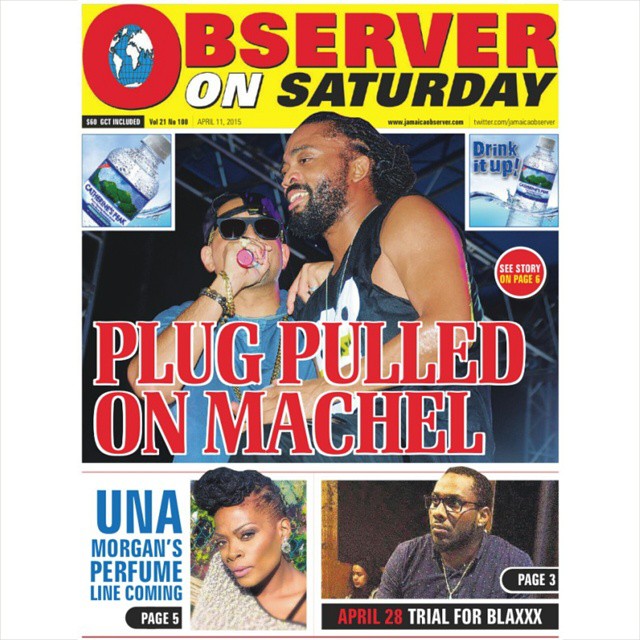 Trinidadian artist Machel Montano was the headliner at Jamaica's 2015 Carnival Event – and he blew the crowd away!!!!!!
ST ANDREW, Jamaica — IT was a bit ironic that Machel Montano's set ended during the performance of his hit "Party Done", but that was the situation at Pandemonium at Hope Gardens in St Andrew, on Thursday night.
The Trinidadian soca star was about 45 minutes into his set when the sound went low.
At first patrons felt it was a technical problem. However, the presence of police officers backstage confirmed the event had exceeded its 1 a.m. cut-off time.
Montano, who was the headliner, was the first act to grace the stage to thunderous applause.
Joined by his back-up dancers, he went into his 2015 hit "Like a Boss". His choice of opening song showed the comfort he had with his Jamaican audience.
He then ran through his multitude of familiar songs, while the audience sang every word, many times drowning him out.
He responded by jumping off the stage to get closer to his fans for a few minutes then continued to reel off his extensive catalogue including "Haunted", "Remedy", and "Happiest Man Alive".
He threw in a quick tribute to Jamaican Carnival legend Byron Lee before launching several of his collaborations.
He ramped up anticipation when he signalled for a mystery guest, Sean Paul, with whom he did a track on his upcoming Major Lazer set.
Shaggy, who joined Montano on stage, reeled off a couple of his hits when the sound level fell.
Angela Hunte was rushed out as she and the headliner tried to perform their duet "Party Done", without the aid of the sound system.
Fans milled around waiting for an explanation about what was happening.
It was soon clear, however, that the event was over as the crew began packing up the band equipment.
Efforts to speak with the organisers were unsuccessful.