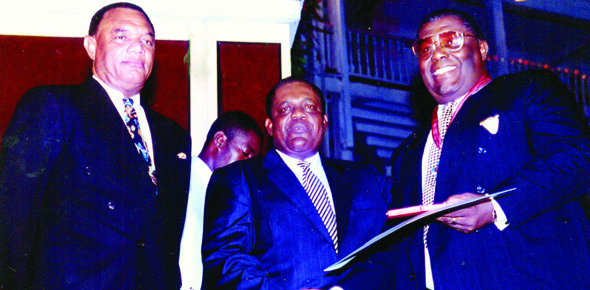 By Winston T. Marshall
Overview
The passing of Ken Francis presented a major challenge for this writer, for there is so much that one wishes to share, and some other things one would wish to share, but will not.
What is certain, is the fact that Ken Francis will be remembered by many, in many different ways…..and the opportunity to pen these words, is a particular honor, and in some way, I think he would approve of.
As a youngster, there are some individuals, who by their personality, and confidential nature and warmth or their willingness to share ….whether it was advice, or a story to set the record straight….or something that would bring laughter when the details were better understood….and thus have a profound effect on  one's career.
Ken Francis was such an individual.
All of this must be understood in the context of pre-computer age, pre-cell phones, pre-texting…pre-twitter…….but when individuals depended on the "print media" as gospel.
In many ways, society seems to have been more literate, and there was less room for rumors and unsubstantiated speculation and reckless gossip.
Ken Francis came from that generation….where an individual….a Publisher of a major daily, was a well respected and trusted nation-builder.
In sharing some things about Ken Francis……we are minded of the words of challenge , penned by British Playwright William Shakespeare, where he asserted that life, like the world…is akin to a stage, and we are all mere actors…..we make our entrance, play our respective and multiple parts…..and then we make our exit.
That was Ken Francis…..
Love of Family
For those who really knew Ken Francis, they would know that there were a number of things very near and dear to him….and his wife and family would know that…he had a heart of gold and in a way took on the role of head of the family…The Francis Clan" many years ago.
In a way he felt responsible for them all….whether it was their education…or career.
And then I can tell you that the careers of many, were encouraged and promoted by him….even at the risk of being accused of nepotism.
And then, I can tell you that….he personally encouraged the pseudo careers of effective and well thought- out sharing of views…with a whole group of "nome de plume"…but not really ghost writers, for he knew who they were….especially Tony Ferguson and Sagitarius.

Social Reformer
And then I can tell you all about a special role that Ken Francis played…as a social reformer, by becoming involved in playing and in the administration of Golf…which was once seen as a rich and white man sport.
His involvement, along with others including Freddie Higgs…and Roy Bowe…and Errol Leach…and Dr. Cleveland Eneas Sr. ….and Dr. Francis Adderley…and Paul Adderely….and Sir Clem Maynard….and Calvin Cooper Sr. ….and Basil Nicholls…and George Turnquest….and Basil Sands Sr. contributed to bridging this racial divide.
Love of his church
It would not be inappropriate to say that he loved his God and Church….particularly St. Matthews…..and would be called upon, regularly to assist his Anglican Church.
This husband……father…uncle….grandfather….godfather….entrepreneur…..publisher….and social; reformer has lived a full and productive life…and has made a tremendous contribution to nation-building.
May the works that he has done, speak for him and May his soul rest in peace and rise in Glory.