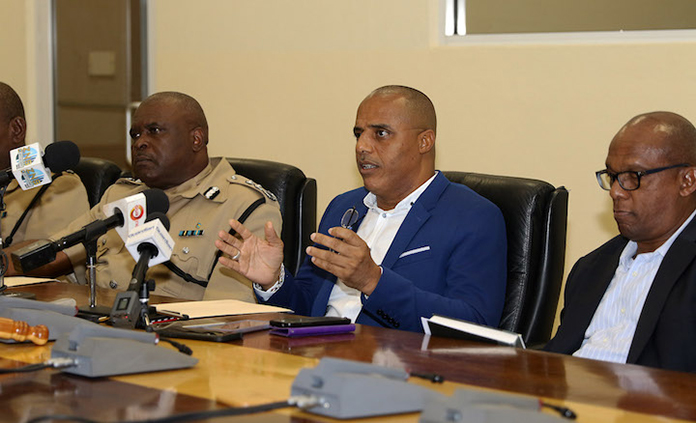 NASSAU, The Bahamas — During a press conference on the Execution of Crime Fighting Initiatives of the Royal Bahamas Police Force (RBPF), on August 19, 2017, at the Paul Farquharson Conference Center, Minister of National Security the Hon. Marvin H. Dames dispatched a stern message to criminals operating in The Bahamas.
"I will like to send a warning out to all those persons who continue to live a life of crime — moving forward we intend to make your life very uncomfortable," Minister Dames said. "We will use every resource at our disposal to ensure that you are made to account for your wrongdoings.
"This is a promise."
Minister Dames stated that, after getting the news of another murder that morning, he decided to convene a meeting with RBPF Commissioner Ellison Greenslade, along with his executive team and divisional commanders to review their current strategy. He said that, after hearing from them and knowing what we are up against, he requested of them the need to redouble their efforts.
As a result of the meeting, Minister Dames said, they had decided to execute a number of initiatives.
"While efforts in tackling crime are static in many ways they are also fluid as our approach is based on what is occurring," Minister Dames said. "Towards this end, they are further enhancing senior command at a divisional level on a 24-hour basis."
Minister Dames pointed out that they will be taking a more aggressive approach to handling drug peddling and shutting down drug houses in communities throughout New Providence, Grand Bahama and across the Family Islands, as they are the source of many of the crime problems that exist.
"They will be increasing their intelligence and operational efforts to identify and disrupt gang activities, wherever they may exist," he said. "From an intelligence perspective, there will be an increased focus on firearm traffickers with a view to bringing them to justice."
Minister Dames said that RBPF officials informed that they have conducted a review of persons on bail who are not in complying with their bail conditions.
Further, he said, they had discovered that more than 50 persons were not in compliance and that they had already arrested a number of those persons and subsequently their bail was revoked.
"At present, there are 268 persons currently being monitored for various offences," he noted. "Out of that number, 70 are being monitored for homicides, 18 for attempted murders, 102 for armed robberies and 59 for firearm offenses."
Police intelligence has also revealed, Minister Dames added, that the murders have occurred in what we term, 'hot spots' — Pinewood, Kemp Road, Bain Town, Yellow Elder and Carmichael Road communities. Police will increase vehicle and foot patrols and will be using all of the technology available to them including increased monitoring of CCTV and their all of their resources to curtail these violent crimes, he stated.
"The efforts of police have yielded some results but as I have explained there is more that we should be doing; but there is a need to improve technology and build capacity," Minister Dames said.
"As we have promised in our Manifesto, we will immediately commence with the establishment of the National Crime Prevention and Neighbourhood Watch Council to grow community involvement in the fight against crime," he added. "We have identified Senior Assistant Commissioner Stephen Dean to lead that effort."
That council, Minister Dames said, will establish crime watch groups in every community and these groups will endeavour to establish commonality and examine community prevention measures. The council will study the feasibility of citizen patrols working with police to improve relationships and prevent crime, he added. Additionally, the council will collaborate with multi government agencies and non-governmental agencies.
Minister Dames noted that the Government will review the establishment of the Royal Bahamas Police Force as we feel that this is one of those areas that if we get right, should go a long way in reducing high levels of crime in our communities.
This review will determine what is the requisite number of officers at any Division which was not yet been established," Minister Dames said. "I suspect that shortly we will run a pilot programme in terms of addressing this issue to determine its level of effectiveness."
"We will also move to de-centralize, once again, the central detective units," he added. "The purpose of de-centralization is to have detectives at stations to readily respond to serious matters on a timely basis."
Minister Dames pointed out that the detective units were dismantled under the last administration.
"I want to use this opportunity to personally and publicly thank the fine men and women of the Royal Bahamas Police Force for their tireless efforts to keep the people of this country safe," Minister Dames said. "Yours is a job that is accountable to the Bahamian people; but one that is often without thanks."
He said that it should be noted that the job of law enforcement officers is the prevention and detection of crime and the apprehension of offenders.
"The government intends to produce very shortly its legislative agenda which will have a number of Crime Prevention Bills, including the National Anti-Corruption Agency and the establishment of the National Intelligence Agency — among others," Minister Dames said.
"We are more determined than ever and stronger in our resolve to keeping this Bahamas safe for all citizens."