Bahamas Press highlights the wicked abuse by the wutless Bahamian media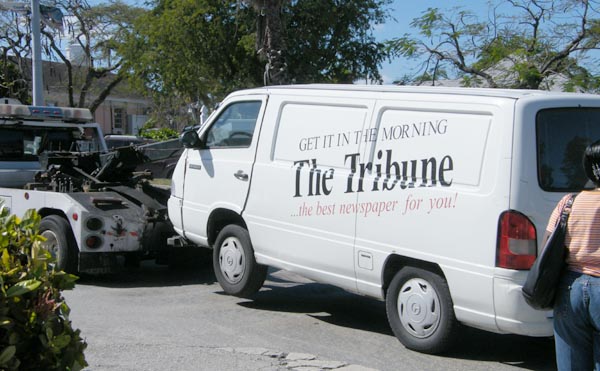 Nassau, Bahamas — Bahamas Press now has an update from the ground on that latest murder incident just off East Street opposite the Kelly's Lumber Yard.
We can confirm the victim is a female in her fifties or early sixties.
We can also tell you last year around late November she lost her husband to a violent robbery at another convenience store owned by the family.
The woman, eyewitnesses tell us, resisted the robbers and died attempting to protect her earnings.
Residents in the community are all saddened by the development and are vowing to capture the suspect now on the run.
Wife and husband both murdered by cold hardened criminals wandering around the streets killing people!
Bahamas Press is calling on all right-thinking Bahamians to weed out, stamp out, drop kick and break the criminal elements around your community. Innocent hardworking decent people are being murdered lawlessly while justice sits down crippled!
ENOUGH IS ENOUGH!
Meanwhile Bahamas Press is spotting the state of the wutless media in the Bahamas once again!
Trevis Demeritte and his Mother Bronell Humes of Dignity Gardens and Patrick Rolle of Bellot Road are both trial in Magistrate Gun Court in connection with the seizure of 16 guns and 867 rounds of ammunition at Potter's Cay Dock on August 18th 2011, which were smuggled into the Bahamas via Bimini.
This very serious matter if UN-detected could have resulted in the loss of many lives if not uncovered by the Police. Yet, the trial is only carried on page three of Saturday February 2nd 2013 edition in the morning wutless dailies.
They are burying the news of apprehension and convictions while highlighting big and boldly other damning incidents of crime – WHAT A DISGRACE!
And here's an example of the FNM WUTLESS MEDIA WAYS! While they refuse to give carriage of that Gun Court matter, here another report they continue to herald before the pages. Carlos Lamm a former FNM supporter and his friend Latashia McKenzie who were both charged in connection with alleged possession of 3 LBS Marijuana.
Every time this matter comes up for hearing and adjournments its front page news in the Tribune, Guardian and Cable 12 News simply because Lamm campaigned for Jerome Fitzgerald in the 2012 General Election.
The reason should be very obvious to all.
The Tribune, The Guardian and Cable 12 must cease to be puppets for the Free National Movement.
Is the expose of a major gun smuggling substantially more noteworthy and of great importance over that Lamm case?
Bahamas Press alerts our wide and massive 360,000-readership base in the country and around the world to note these developments!
There are other glaring examples to come.
We report yinner decide!