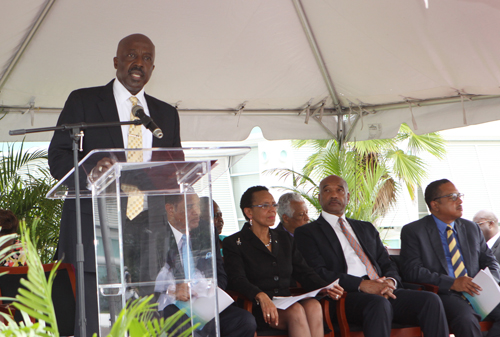 NASSAU, The Bahamas – The official opening and naming of the Paul L Adderley Building on Friday, June 27, 2014 was deemed another red letter day by the Minister of Labour and National Insurance and Minister of the Public Service the Hon Shane Gibson.
"Indeed, upon receiving its mandate to lead the Bahamian people, this Government pledged to continue to honour its outstanding heroes in memorable and lasting and meaningful ways," he said.
Mr. Gibson delivered remarks at the historic ceremony in front of the building on John F Kennedy Drive, which houses the Office of the Attorney General and Ministry of Legal Affairs.
Prime Minister, the Rt Hon Perry Christie, who envisioned and fully supported the honour, officially opened the building. Attorney General and Minister of Legal Affairs the Hon Allyson Maynard-Gibson also gave remarks. The Prayers and Act of Dedication were performed by The Most Reverend Drexel Gomez, Assistant Bishop of the Anglican Diocese.
Amongst the list of dignitaries and invited guests were Dame Marguerite Pindling, Cabinet Ministers, Senior Government Officials, Parliamentarians and family members including Mr. Adderley's widow Lilith, and daughters Catherine and Paula.
Paul L Adderley was the longest serving Attorney General – appointed on July 10, 1973 and served until 1989. He also served in the Cabinet, the Senate and House of Assembly, as Deputy to the Governor General and as Acting Governor General. He died on September 19, 2012.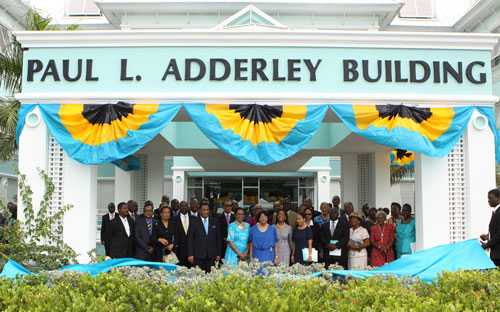 "Paul Adderley was a phenomenal man – a nation builder who had the distinct honour of serving in a number of leadership capacities including that of being our independent country's first ever and longest serving attorney general, in addition to serving over a period of years as a cabinet minister and parliamentarian," Mr. Gibson said.
The government has previously honoured other nation builders with etching their names on buildings namely, the Lynden Pindling International Airport, the Clifford Darling (NIB headquarters), Carlton E Francis Primary School, and most recently the Thomas A Robinson National Stadium, where the country hosted the successful IAAF World Bahamas Relays 2014.
Others received honours the Randol Fawkes Labour Day, and the re-named 12 October as National Heroes Day.
"It is now truly a great honour and privilege for me to join with the government and the people of The Bahamas to honour the late Honourable Paul Lawrence Adderley – another great Bahamian. And we do so today in the same fashion as we have in previous years for other distinguished leaders of this country," Mr. Gibson said.
Recalling his personal time with the late Paul Adderley, Mr. Gibson revered him as a friend and mentor who counselled and guided him.
"Indeed Paul L. Adderley was a man of incredible achievements. It is my hope that through this ceremony, present and future generations of Bahamians will be inspired to serve their communities selflessly, honourably, and with distinction and pride.
"In fact, we need more individuals like Mr. Adderley – men and women, young and older, who are fully dedicated to sacrificial service of country and who display remarkable courage and tenacity for the challenging times in which they live," Mr. Gibson said.
He quoted former Prime Minister Pindling who said: "Leaders, we must not forget, do not make themselves. They are made instead by the people they lead, by the people who believe in them and by the people who are prepared to follow them, not out of fear, or because it may be the in-thing to do, or because of some hypnotic spell, but because deep down there is a faith that moves them to lift us up to a height above their own…"
Paul L Adderley was such a leader who pointed the way forward and guided Bahamians into the future, Mr. Gibson said.
"A leader to whom we should all be grateful. I am certainly grateful and I pledge to continue the Government's mandate in the ways that I can to remember our national heroes," he said.