PM Davis: Opening of Nassau Cruise Port is a 'major step forward' in Nassau's Transformation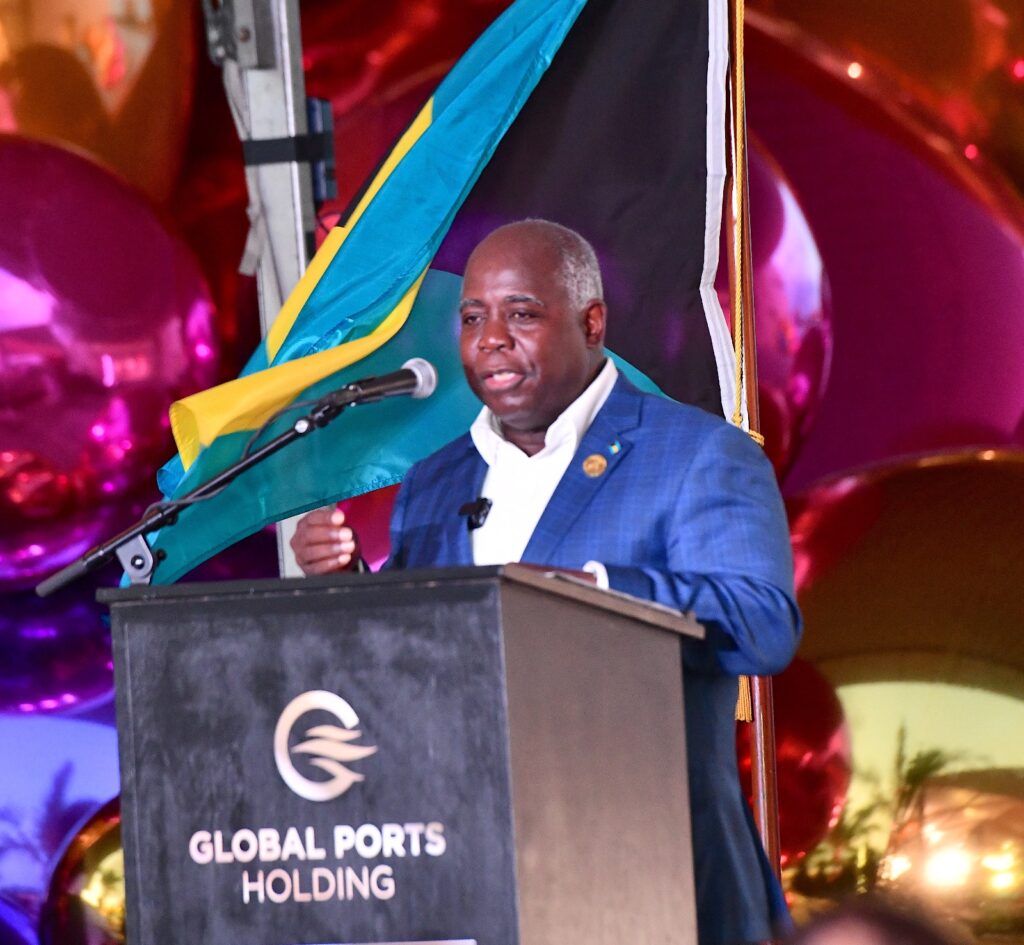 NASSAU, The Bahamas – Prime Minister and Minister of Finance the Hon. Philip Davis said, on May 26, 2023, that the opening of Nassau Cruise Port was a "major step forward in the transformation of Nassau", and marked a new chapter for the city, offering "exciting opportunities for all Bahamians."
"Nassau has long been a cherished destination for travelers from around the world. Now, with the completion of the Nassau Cruise Port, we stand proudly as a premier international cruise gateway, ready to welcome visitors with open arms," Prime Minister Davis said at the Official Opening Ceremony.
He added: "Downtown Nassau holds an important place in our history, our culture, and economy. While redevelopment is challenging, we remain committed to the revitalization of Downtown Nassau. We are taking bold steps to address these challenges, including demolishing existing eyesores and creating room for new development."
Prime Minister Davis noted that the opening of the Port signified the first steps in the re-imagination of downtown Nassau. He said that the objective was to curate a world-class, authentically-Bahamian experience so visitors who stepped ashore will be "immersed in our heritage, creativity, and excellence."
"We envision this area becoming not just a bustling cruise destination but also the entertainment center of New Providence, inclusive of commercial and residential offerings," he added.
"This transformation will breathe new life into the heart of our city."
Prime Minister pointed out that, as his Government moved forward with ongoing plans for redevelopment, it will redefine how visitors and locals alike interact with the downtown area in fundamental ways.
"Bay Street and the surrounding area should be grounded in the Bahamian experience in ways that demonstrate the best elements of our culture, our people, and our way of life," he stated.
He added that Nassau Cruise Port was a testament to that vision.
Prime Minister Davis said: "This extensive $300 million redevelopment project expands our capacity and enhances our offerings. Along with an increased capacity to accommodate larger vessels, we have constructed a new terminal, a Junkanoo museum, an amphitheater, local stores, and food and beverage facilities — this transformation honors our rich cultural heritage while looking towards a bright future."
He added it brought with it many opportunities for Bahamian ownership and employment.
"Not only are there jobs directly related to the operation of the port itself, there are also formally designated areas for hair braiders, taxis, tour operators, and vendors of all kinds," Prime Minister Davis said. "Over 70 Bahamian businesses, including food vendors, Bahamian-made goods and crafts stores, and tour operators will occupy this space."
"At this family-friendly destination, Bahamian music, culture, and entertainment will be on full display, at the multi-sensory Junkanoo museum, the amphitheatre, and other designated spaces, providing vital opportunities for those engaged in the orange economy."
He added that a partnership with the University of The Bahamas will include an allotted 2,400-square-foot food and beverage space for currently enrolled culinary students to build vital experience while creatively showcasing Bahamian food.
"Of course, there will be complementary support and signage directing visitors to the Straw Market, as well as other downtown attractions," Prime Minister Davis said. "It was very important for this experience to be open and inclusive of businesses of all sizes, as well as people from diverse backgrounds."
Emphasis was placed on wheelchair accessibility to ensure that everyone was capable of independently navigating and enjoying the port, Prime Minister Davis said.  He noted that special care was also taken to ensure that the cruise port was fully integrated into the wider downtown experience so that "surrounding business-people — like our hardworking straw vendors — could benefit from the increased foot traffic".
Prime Minister Davis pointed out that, beyond the physical structures, the Nassau Cruise Port was a celebration of Bahamian cultural heritage.
"The port will become a cultural and entertainment hub that celebrates our UNESCO recognized heritage and crafts," he said. "This is a place where our traditions, customs, and artistic expressions come alive, inviting visitors to immerse themselves in the true essence of The Bahamas.
"At the same time, the port incorporates environmental sustainability in key areas reflecting our commitment to protecting the environment while growing our economy."
He noted that it included a soon-coming 1.5 megawatt solar facility to provide sustainably generated power to the port.
"Today, we extend an invitation to investors and developers to join us in this ambitious endeavor," Prime Minister Davis stated. "We recognize the value of public-private partnerships, and our government stands ready to meet you in the middle, fostering a collaboration that will benefit our city, our economy, and our people. Together, we can shape the future of Nassau and create a vibrant and prosperous urban center that we can all be proud of."
Prime Minister Davis said that, as they officially opened the Nassau Cruise Port, they also extended their gratitude and appreciation to all those who had been instrumental in bringing the project to fruition.
"The consortium comprising Global Ports Holding Plc, the Bahamas Investment Fund, and the Yes Foundation has played a vital role in transforming our vision into a tangible reality," he said.
"Today's opening of the Nassau Cruise Port signals a new beginning for Nassau, promising a prosperous and sustainable future for all Bahamians," Prime Minister Davis stated. "We know that this port will not only enhance our city's economy but also serve as a catalyst for the wider development of downtown Nassau.
He added that the completion of the project signaled to the world that Nassau will continue to be a "vibrant and thriving destination, ready to offer unforgettable experiences to all who step ashore".
Let us seize this opportunity together and let us set sail towards a thriving, vibrant, and resilient Nassau," Prime Minister Davis said.