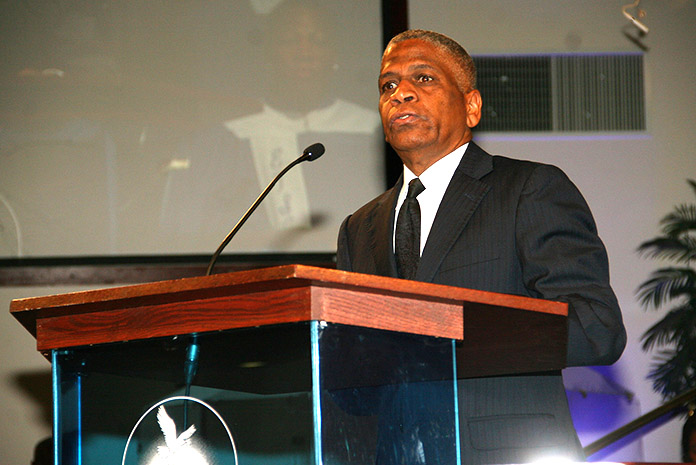 NASSAU, The Bahamas – The National Emergency Management Agency (NEMA) held its annual church service under the theme, "The Road To Resilience," commencing the 2017 Atlantic Hurricane Season. The church service was held Sunday morning, June 11, 2017 at Evangelistic Temple, Collins Avenue.
The service was one of NEMA's activities planned for the Hurricane Season to raise awareness and preparedness throughout communities.
Jack Thompson, Permanent Secretary in the Office of the Prime Minister, gave brief remarks, stressing the importance of work of the National Disaster Committee in getting the country prepared for any disaster — natural or man-made — its work during a disaster, and its response, recovery and rebuilding phases.
Mr. Thompson also thanked Senior Pastor Rev. Dr. Vaughan Sands and members of the church for accommodating NEMA.
The Colorado State University Tropical Meteorology Project predicts 11 named storms, 4 hurricanes, with 2 major hurricanes. The National Oceanic and Atmospheric Administration (NOAA) predicts 11-17 named storms, 5-9 hurricanes, with 2-4 becoming major hurricanes. Storm names for 2017 are: Arlene, Bret, Cindy, Don, Emily, Franklin, Gert, Harvey, Irma, Jose, Katia, Lee, Maria, Nate, Ophelia, Philippe, Rina, Sean, Tammy, Vince and Whitney.