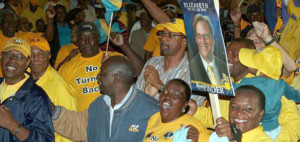 The Progressive Liberal Party
December 19, 2010
PRESS STATEMENT: After many challenges and failures of the privately owned and operated Reverse Osmosis Plant (which was located on Seahorse Cay Abaco) during the past two years; the Water & Sewerage Corporation entered into to an arrangement with Water Makers to provide RO water to the residences of Grand Cay Abaco.
Reliable sources in Grand Gay advised that water produced from day one by the new Plant (now located on Grand Cay) which became operational just under a month, is smelly and foul and could be related to the fact that the well was sank in the area of a Mangrove Pond. The same source claims that Grand Cay smells like a broken sewerage plant.
Residents of Grand Cay are very concern as they have been forced to purchase bottle water for drinking, cooking and bathing and are deeply concern of possible health problems for babies, children and senior citizens.  They have not heard from their Member of Parliament the Rt. Hon Hubert Ingraham MP or Jr. Minister Phenton Neymour MP as to when this very serious problem will be resolved. Mum is the word.
Word has it that the Water & Sewerage Corporation is unable able to obtain the assistance of the previous provider as outstanding fees have not been paid.
The people of the fishing community of Grand Cay deserves better.