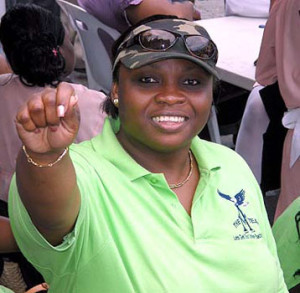 Nassau, Bahamas –– Information leaked from the DNA now tell us Hotel Union President, Nicole Martin, is seeking the Party's nomination for the Sea Breeze constituency.
Sources in the position to know tell us, Martin, who hails from the Nassau Village area, has expressed interest in becoming the Party's standard bearer. She will most likely secure the nomination.
Bahamas Press expresses to all and sundry, that our support for Martin fell by the wayside, when she abandoned her membership and sold-out them out as a board member to the National Insurance Board.
High-jacking her membership, Martin agreed with Hubert Ingraham to further TAX TO HELL her struggling Union membership by agreeing with the Board and Papa to impose increased NIB contribution on tips made by struggling hotel workers.
Readers should remember Martin's near naked absence during the STINK Sweetheart sale of BTC to Cable and Wireless. She never drew on her membership to protest against the sale as a member of the NCTU Bahamas; with her controlling the largest union membership in the country. She did little to join BTC "Criminals" on Bay against the sale. We find these actions by the president absolutely APPALLING!
Tommy Turnquest, many would remember, placed the Defence Force on high alert, suggesting the Unions were a 'NATIONAL THREAT' TO SECURITY as the BTC got heated and again Martin said not a damn thing in response! Boy, we 'gat' one cut_yinner_know_ what coming for her.
She has been most neglectful, most absent, and has committed an act like Houdini following the terminations of 202 workers at the Our Lucaya earlier this year. And by extension, she had not a damn word to say following the tourism slide on Grand Bahama. Workers are left working two and three days per week on the island and with Discovery Cruise line departing this September we ask again, WHERE IS THE VOICE OF THE UNION PRESIDENT? WUTLESS LEADERSHIP! LEADERSHIP WE CANNOT SUPPORT, LEADERSHIP NO ONE CAN TRUST!

BP reminds all voters in Sea Breeze that there is but ONE HOPE for that struggling community and that is to elect HOPE Strachan as your next Member of Parliament.
We call upon residents there to REJECT the man who believes all "UNDERNOURISHED" children should be subjected to the cruel crimes of molesters, and we ask them to REJECT the Party, which has the FNM's DNA! They are one in the same!
Papa gat a 'BRAN' new bag; and we want the people not to forget it.
VOTE THEM OUT!