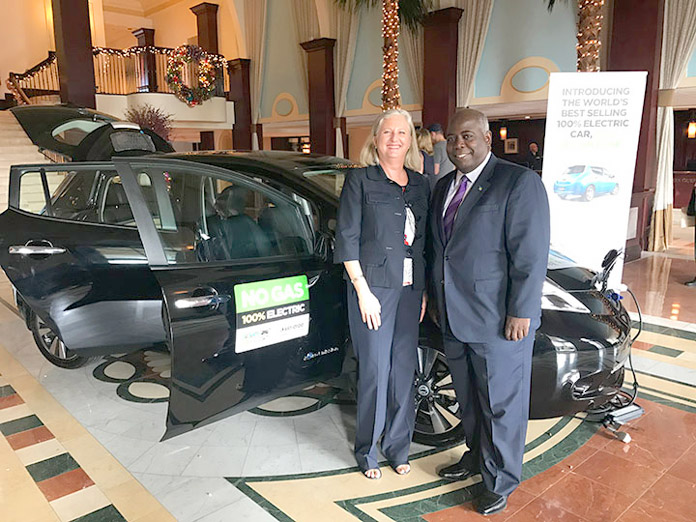 Nassau, Bahamas – During the recent Chamber of Commerce Bahamas Energy Security Forum, the Nissan Leaf 100% Electric Vehicle (EV) was featured in the lobby of the British Colonial Hilton to the delight of visitors and locals alike, who had the opportunity to experience the world's most popular EV, now available in The Bahamas at Easy ECO Car Sales on Gladstone Road.
The purpose of the Chamber's Annual Forum is to discuss developments in national energy policy, harnessing alternative sources, and highlighting the power of individuals to make a difference in the production and responsible consumption of energy.
The EV is an essential component of a cleaner, more efficient transportation system. The car is charged by plugging into the electricity grid or by using solar power at home and at work. Because there is no gas-burning combustion engine, service is minimal, and EVs run at one-third the cost of traditional vehicles, empowering individuals and businesses to significantly lower their transportation expenses while reducing their carbon footprint and harmful emissions in our environment.
It was quite a challenge to park the car in the hotel lobby — the helpful Hilton staff had to remove the front doors, leaving only inches to spare!