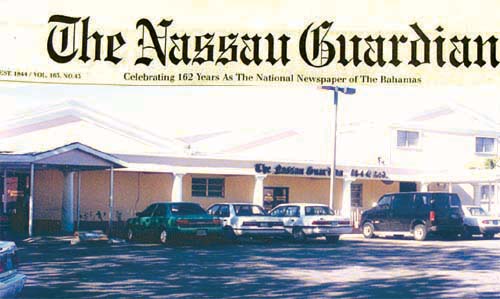 Well, well, well…….it wasn't even 15 minutes after Raymond Kongwa came "out of the closet" and revealed his true identity that Bahamas Press was bombarded with emails about this young man. OBVIOUSLY, not well liked, the "facts" that were presented, WITH PROOF, about this young man does NOT add up to most of the things he "reported" in his post which was so weirdly put to our recent Royal Bank expose.

First of all PROOF was shown that Raymond Kongwa DID NOT accomplish his Masters Degree as he had set out to do. Apparently his trouble with the Guardian this last go round was due to the fact that Guardian owners INSISTED that he pay back the monies they spent on him while at the University of Illinois because he DID NOT accomplish what he set out to do – his MASTERS DEGREE. So the first fact we established is that Raymond Kongwa HAS NO MASTERS DEGREE. At this point Kongwa decided to part company with the Guardian AGAIN but not before writing an EPIC to the Guardian owners telling them that the news editors (who are females) were giving sexual favours in exchange for stories amongst other perverted nonsense and they should investigate it.
Secondly, Raymond Kongwa is NOT qualified to make suggestions on how to run a newsroom and we were assured that the publisher of the Guardian, no matter how terlet paper it is, DID NOT ask Kongwa for recommendations or entertain him in that regard.
Thirdly, we established that Raymond Kongwa was IN FACT NOT WELL LIKED, but not for being anti-social, as he described, but for being COCKY, ARROGANT, DEMANDING, a suspected POOFTAH, UNDER-TALENTED and ultimately making a JACK ASS of himself on many occasions. PLUS it would appear that Kongwa has a chip on his shoulder as he feels he has been rejected by society as his father, who is from the Motherland, abandoned him and his mom and he was left to bear the very uncommon name, KONGWA.
An eyewitness to the fateful FNM convention fiasco told Bahamas Press that Kongwa WAS NOT sent to replace the editor at the convention that night but rather to spy on the editor. The eyewitness also said from the time Kongwa arrived at the convention it was more than OBVIOUS that he was sent there for a reason based on the immature comments he made and his cocky behaviour. The editor asked him about the loud, foolish comments he made and Kongwa flew into a rage, began drinking an alcoholic beverage, cursed at the editor and made obscene gestures to the editor – grabbing his genitals with his hands etc.
The eyewitness also said that the editor, whom Kongwa is referring to, recently suffered a debilitating illness that has the editor in a position whereas the editor can no longer work in the editor's craft.
Kongwa was sent to spy on the editor as the publisher at the time seemed to think the editor was too "friendly" with Hubert Ingraham who was, at the time, trying to get back the reigns of FNM leadership. The Publisher, a former PLP Cabinet Minister, was running the Guardian like a PLP ship and was threatening staff about having political affiliations. Kongwa was being coached by the Publisher and some white, British ghetto man, gotten out of the BOWELS of London, who was given the position of news editor.
Kongwa was VERY immature (and still is BP is told) and could not handle the "attention" from these high ranking, sexually questionable, PLP gentlemen so he acted out like a child "KNOWING" that there would be NO recourse for his actions. After the FNM convention fiasco, Kongwa disappeared for a while. A caricature emerged of him "mating" which seemed to have ended up in the email inbox of EVERY citizen of this country.
The PLP Publisher got rid of the editor, giving the editor NO real reason as she was on a 3 month probation having just been employed by the Guardian, but BP is informed that it was a move to settle an old PLP beef with Hubert Ingraham. The eyewitness said that it was a conspiracy of the Publisher to get rid of the editor so that the Guardian could revert to being the PLP mouth piece as in days of old. The Publisher fired the editor and then miraculously Kongwa was brought back to work at the Guardian and then quickly sent to study for his Masters Degree which he was not successful in achieving. End of story…..
Kongwa….a little advice from BP.… before you come on this blog with TEN STONES COCKED TO THROW, make sure your glass windows are battened up or shatter proof.
May the games begin……………………….