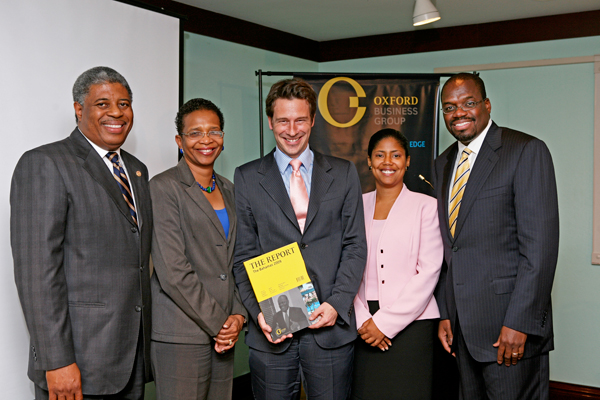 <<<OBG The Report Launch – Pictured are, Raymond Winder, Diane Stewart of Deloitte, Andrew Jeffreys, Wendy Warren & John Wilson of McKinney Bancroft & Hughes.
The Bahamas' plans to seek out new investors and tourists from emerging and fast-developing markets further afield are the subject of in-depth analysis in the most comprehensive English language report on the country's investment and business opportunities ever published.
The Report: The Bahamas 2009 has been produced by Oxford Business Group (OBG), the highly acclaimed global publishing, research and consultancy firm. The Group's first-ever report on The Bahamas looks in detail at how the country hopes to tap into the Latin American and Asian markets, which are expected to provide significant growth for the country while cushioning it from the blow of the global economic crisis.
OBG's Report offers a detailed guide for foreign investors, alongside a wide range of interviews with the most prominent political, economic and business figures, including Brent Symonette, Deputy Prime Minister and Minister of Foreign Affairs, Catherine Ashton, EU Trade Commissioner and Bobby Ginn, founder of Ginn Enterprises.
OBG's analysis provides a detailed insight into the government's plans to accelerate the implementation of planned infrastructural development and expansion as part of a fiscal policy aimed at weathering the worldwide economic storm.
The Report examines the steps that The Bahamas is taking to attract visitors from Latin America, Asia and Russia, as it looks for ways to expand its traditional base of cruise-line and US tourists. There is also in-depth analysis of the country's bid to enhance its retail sector, particularly in the downtown area of the nation's capital, Nassau, aimed at giving the economy a boost while providing additional shopping and leisure facilities for visitors.
The Report: The Bahamas 2009 has been produced in partnership with the Bahamas Financial Services Board (BFSB). Contributions have also been made by Deloitte as OBG's accountancy partner and McKinney, Bancroft & Hughes as its legal partner.