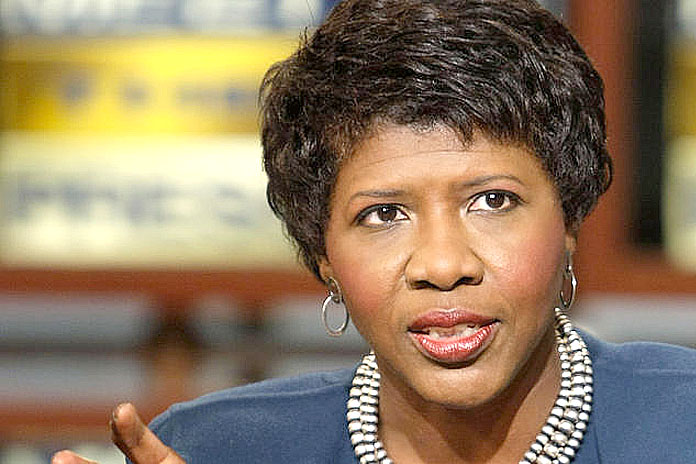 By SAM ROBERTS
http://www.nytimes.com
Gwen Ifill, a groundbreaking journalist who covered the White House, Congress and national campaigns during three decades for The Washington Post, The New York Times, NBC and, most prominently, PBS, died on Monday at a hospice in Washington. She was 61.
The cause was complications of uterine cancer, her brother Roberto said.
In a distinguished career, Ms. Ifill was in the forefront of a journalism vanguard as a black woman in a field dominated by white men.
She achieved her highest visibility most recently, as the moderator and managing editor of the public-affairs program "Washington Week" on PBS and the co-anchor and co-managing editor, with Judy Woodruff, of "PBS NewsHour," competing with the major broadcast and cable networks for the nightly news viewership. They were the first all-female anchor team on network news.
Last spring, she and Ms. Woodruff were the moderators of a Democratic primary debate between Hillary Clinton and Senator Bernie Sanders, reprising a role Ms. Ifill performed solo between sparring vice-presidential candidates in the 2004 and 2008 general election campaigns.
Continue reading the main story
Advertisement
Continue reading the main story
She was also the author of "The Breakthrough: Politics and Race in the Age of Obama," a book published the day President Obama was inaugurated in 2009.
Speaking at a news conference on Monday, the president said, "Gwen was a friend of ours, she was an extraordinary journalist, she always kept faith with the fundamental responsibilities of her profession: asking tough questions, holding people in power accountable, and defending a strong and free press that makes our democracy work."
Ms. Woodruff, in a phone interview on Monday, described Ms. Ifill as "a fiend about facts" who "loved storytelling and loved helping people understand what was going on in the world around them."
Photo