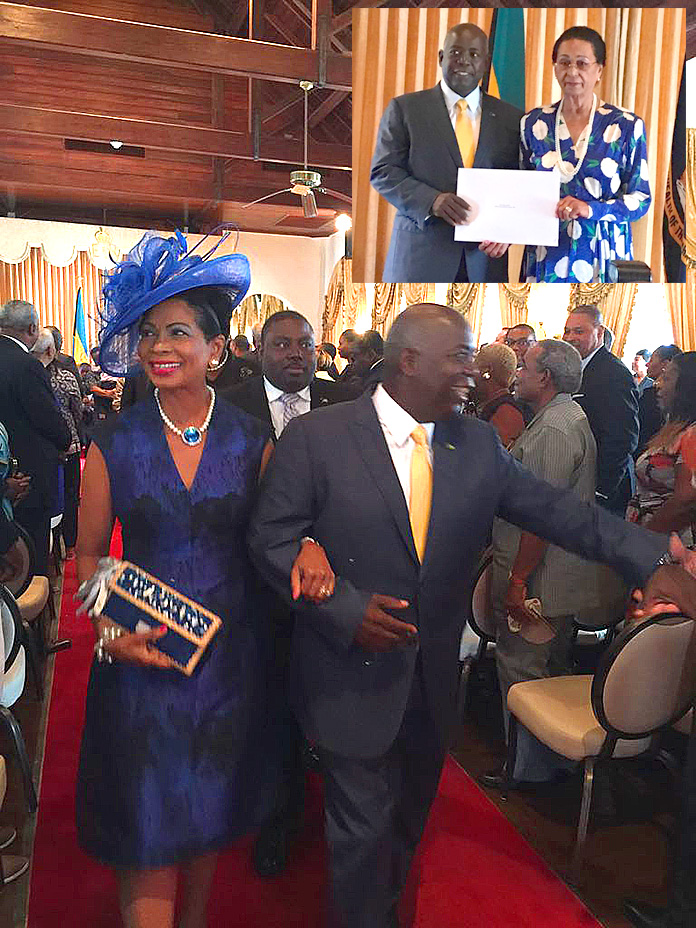 Nassau, Bahamas – Current PLP Leader Philip "Brave" Davis received his letter of appointment today as leader of the Official Opposition.
PLP Chairman Bradley Roberts said yesterday that the Cat Island, Rum Cay and San Salvador MP-elect would now shoulder the leadership responsibilities for the Official Opposition moving forward.
On Monday, Mr Davis became leader after Former Prime Minister and Party Leader Rt. Hon. Perry G. Christie stepped down from the post.
Greeted by scores of well-wishers Mr. Davis vowed to rebuild his party from the ground following the May 10th election defeat. Here are Mr. Davis' remarks this morning:
____
REMARKS
OF
PHILIP BRAVE DAVIS MP
AT
SWEARING-IN AS LEADER OF THE OPPOSITION
GOVERNMENT HOUSE
NASSAU, BAHAMAS
May 19th, 2017
Your Excellency:
As in all things I give thanks, firstly, to Almighty God for all His many blessings. I declare that I repose my faith and confidence in Him as I assume the high office that has been bestowed upon me today.
Next, I thank Your Excellency for your graciousness in appointing me the Leader of Her Majesty's Loyal Opposition. I am most grateful. And may I also thank you most sincerely for extending the hospitality of Government House for this swearing-in ceremony and the reception that is to follow.
I also give thanks to all my family and friends who are here to witness my swearing-in but I thank most especially my dear wife, Anne Marie, and my children. You have been an unswerving source of love, loyalty and support, and I want you to know how grateful I am.
Next, I extend thanks to the great people of Cat Island, San Salvador and Rum Cay. It is only through their continued support of me as their Member of Parliament that I am able to stand here this morning to assume my new office as Leader of the Opposition. I will, as always, endeavor to serve them faithfully and well.
I want also to thank the members of the Progressive Liberal Party, most especially the Stalwart Councillors and other members of the National General Council, and my fellow Party Officers, for their many expressions of support following my elevation to the leadership of the Party on Monday past.
I also want offer a very special word of appreciation to my predecessor as Leader of the PLP, the Rt. Hon. Perry Christie. I had the high honor of serving as his Deputy Prime Minister until Wednesday of last week, and as his Deputy Party Leader until his resignation as Party Leader on Monday. My admiration for him as a patriot and one of the great builders of the modern Bahamas is profound. I know that in characterizing him in this way, I speak not only for myself but for many thousands throughout our nation. I therefore take pride in expressing, on their behalf and mine, our deepest gratitude and appreciation for the tremendous service that he gave our nation for more than 40 years.
Your Excellency, Ladies & Gentlemen:
The work of shaping history is never easy, or without setbacks.
The work of building our nation – which is the work of building justice, dignity, opportunity and lasting progress for all – requires constant re-invention and innovation.
Today we find ourselves – the Party that founded an independent and modern Bahamas – at a new beginning.
It is a time for reflection but it must be much more than that: It must be a time for reform, a time for rebuilding, a time for renewal.
Last week's results should prompt real and thorough self-examination, and indeed, that process has already begun. It is a process we intend to undertake unflinchingly, with both humility and candor. We do so with a sense of urgency, too, because we believe that the values and mission of the Progressive Liberal Party remain essential, indispensable to our country.
We are ready to renew the promise of our Party for a new generation of activists and supporters and fellow citizens. This process will begin on the ground and extend into every community throughout our country. We intend to listen closely to those who believe in the ideals of our party, but have their own ideas about how to work for social and economic justice in these changing times. This will be a dialogue, not a monologue.
And this dialogue and collaboration will be inclusive: we will leave no one out. All Bahamians are our brothers and sisters. We intend to prove that not only with our words but through our actions.
I want to share with you how inspired I have been by the extraordinary number of people who have reached out over the last few days, eager to participate in renewing and rebuilding the PLP. I do not hear despair. On the contrary, I hear determination and excitement about the future of our Party.
So I believe profoundly in our capacity for renewal; I know we will see in this season of change an outpouring of creativity and ingenuity from all those who feel called to be part of the journey.
While we are doing this critical work of revitalizing our Party, we will also at the same time hold the new government to account. That is a primary function and duty of Her Majesty's Loyal Opposition. I have every intention – as do my colleagues in the House – of proving ourselves equal to that duty from Day One and throughout our time in opposition.
As citizens and patriots, we wish the new government well. Where we can find common ground with them, they will have our support.
But they should not look at our small numbers in Parliament and draw the wrong conclusions.
Let me be clear:
• We will not allow the new Government to misrepresent or distort our record of achievement in government;
• We will not acquiesce if they pursue policies or practices that hurt poor or vulnerable Bahamians; and
• We will not stand aside should they compromise our sovereignty as a nation.
You will find, I believe, that we are quite up to challenges ahead. We will be small in number, but we will not be alone – we will be sustained by the example of our party's founders, and by the energy and optimism of a new generation of supporters.
Your Excellency:
I thank you once again for the courtesies that you have so kindly extended to me, my family, and those assembled here for my swearing-in as Leader of the Opposition.
Be assured, Your Excellency, that I shall at all times endeavor as best I can to prove myself worthy of this high and important office in the constitutional life of our beloved nation.
May God Bless us all as we work together for a better and brighter tomorrow.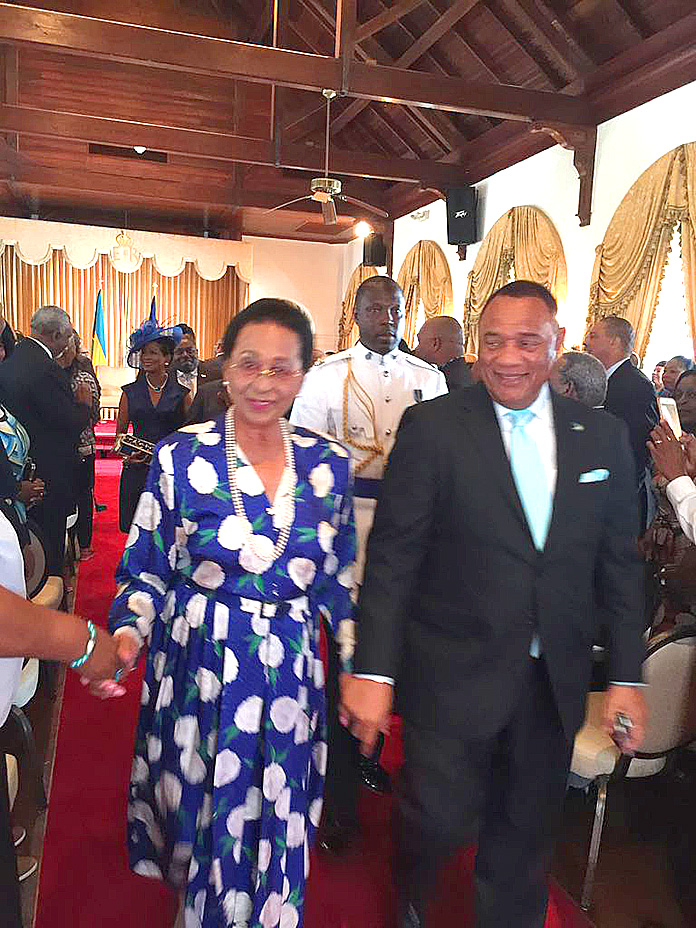 ___