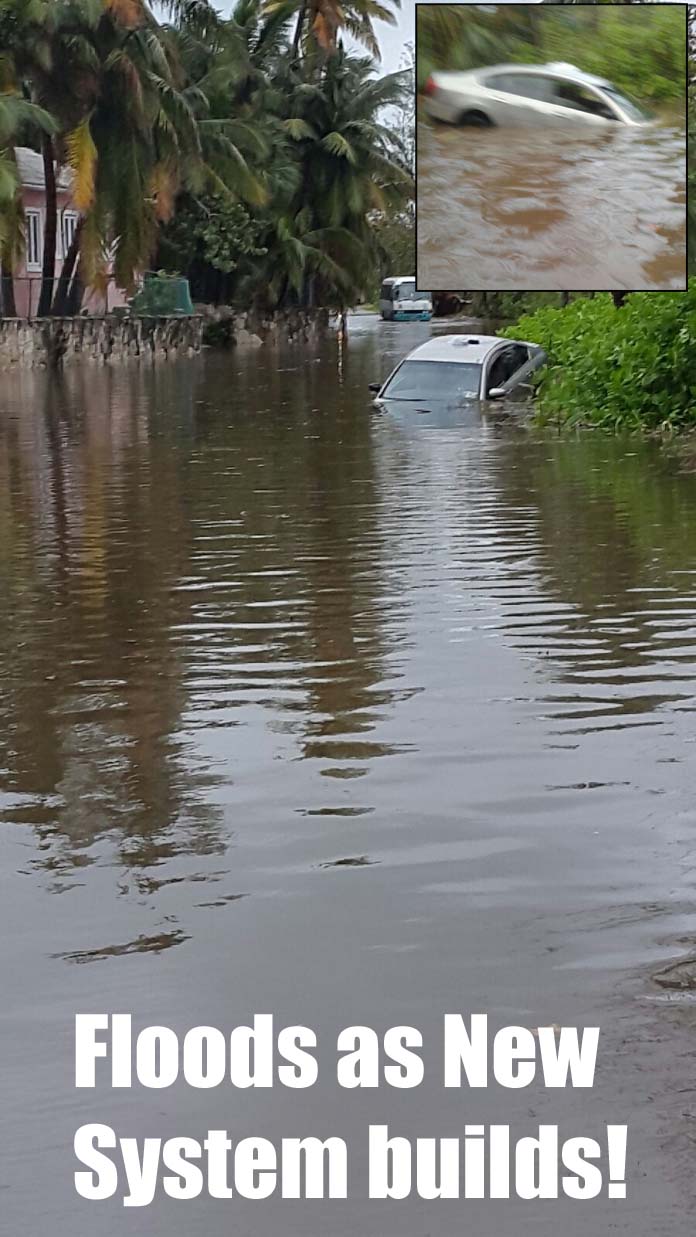 NASSAU, The Bahamas — Prime Minister and Minister of Finance the Rt. Hon. Perry Christie praised the Royal Bank of Canada (RBC), on October 25, 2016, for "another wonderful gesture in support of a disaster and its impact" on The Bahamas, in the form of its donation of $300,000 to Hurricane Matthew damage in the region — inclusive of direct donations of $100,000 to the National Emergency Management Agency (NEMA) and the Bahamas Red Cross, respectively.
"Royal Bank, as indicated, has had a very long and enriching relationship with The Bahamas," Prime Minister Christie said at a press conference at NEMA Headquarters on Gladstone Road. "It has been the principal banker for The Bahamas Government and has, in that context, played a leadership role throughout the 100-plus years in being able to provide invaluable advice to the Government, as it goes through the different forms of governance, more particularly recently, when we went about going to raise $150 million — $120 million by way of loan and $30 million by way of bond."
Also present at the presentation were Minister with Responsibility for Hurricane Relief and Restoration the Hon. Shane Gibson; RBC Managing Director Nathaniel Beneby and NEMA Director Captain Stephen Russell.
According to RBC, $50,000 will also be donated to the Canadian Red Cross for The Bahamas and Haiti, and $50,000 to The American Red Cross, respectively.
Prime Minister Christie elaborated on the support shown by RBC, locally, in response to Hurricane Matthew, especially in terms of the aforementioned bond.
"We got immediate commitment from the Royal Bank of Canada, who indicated that they would take a significant part of that offering — and, again, it was really, truly demonstrable of the kind of relationship we have," he said.
"With respect, to Hurricane Matthew, we thank you for that."
Prime Minister Christie noted that RBC Managing Director Nathaniel Beneby is "wearing two hats" in relationship to the hurricane relief efforts, inclusive of representing RBC.
"You have been Chair of the committee appointed to raise funds for (Hurricane) Joaquin and now Matthew," Prime Minister Christie said to Mr. Beneby.
Prime Minister Christie went to on to encourage Mr. Beneby to continue to assist the Government to obtain more donations, in light of the hundreds of millions of dollars in estimated hurricane damage by Matthew.
"Thank you very much, again, for this effort; and we look forward to you coming here in your other capacity to welcome other donors," Prime Minister Christie said.
He added that he would be "infinitely" grateful for Mr. Beneby and his other committee members to "beat the drums" in raising more funds for the relief effort by attracting those high net-worth persons from around the world who live in The Bahamas, through their possible connections.
"My sense is that if they were aware of the acute need that we are facing, they would be forthcoming with some assistance," Prime Minister Christie said. "The challenge for us is to have persons such as yourself (Mr. Beneby), who are a formal part of this grouping, to reach out to those elements in our community who see The Bahamas as a second home and who are happy living here in the comfort and security that they do live in here.
"The idea is to see if we could just inform them of the challenges, with a view to attracting assistance from them."