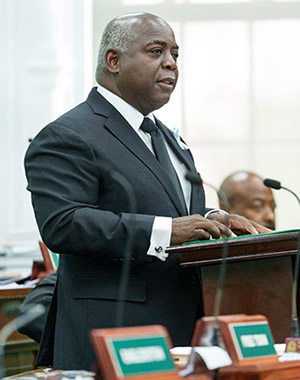 PM DAVIS: My wife, Ann Marie, and I join with the citizens of The Bahamas in extending our sincere condolences on the passing of Reverend Dr. Lloyd C. Smith. His roles were many – a pastor, a president, a contractor, a mentor – but his legacy is singular: he made a significant difference.
Dr. Smith served the spiritual needs of his congregation as Senior Pastor at Mount Horeb Baptist Church in Sandyport. His ability to guide, to understand, and to inspire left a mark not just on his congregation but also on the wider community.
In June 2018, Dr. Smith took on the mantle as the 10th President of the Bahamas Baptist Missionary and Educational Convention. His vision and dedication strengthened the Convention's purpose and increased its influence in matters of faith and education.
On the economic front, Dr. Smith led by example. His construction firm, Holiday Industrial Builders, contributed to our nation's growth. He played an integral role in public infrastructure projects, such as the Ministry of National Security Headquarters on University Drive, manifesting his commitment to societal development. Today, we mourn the loss of a true servant leader.
Our thoughts are with his family, his church, his colleagues, and all who were touched by his life's work. While we grieve, we also remember and give thanks for a life lived in service to others. May Reverend Dr. Lloyd C. Smith rest in peace. His legacy will continue to inspire.