Frankie must have gone bananas and vanished as no media personality can get answers from him over his brith affidavit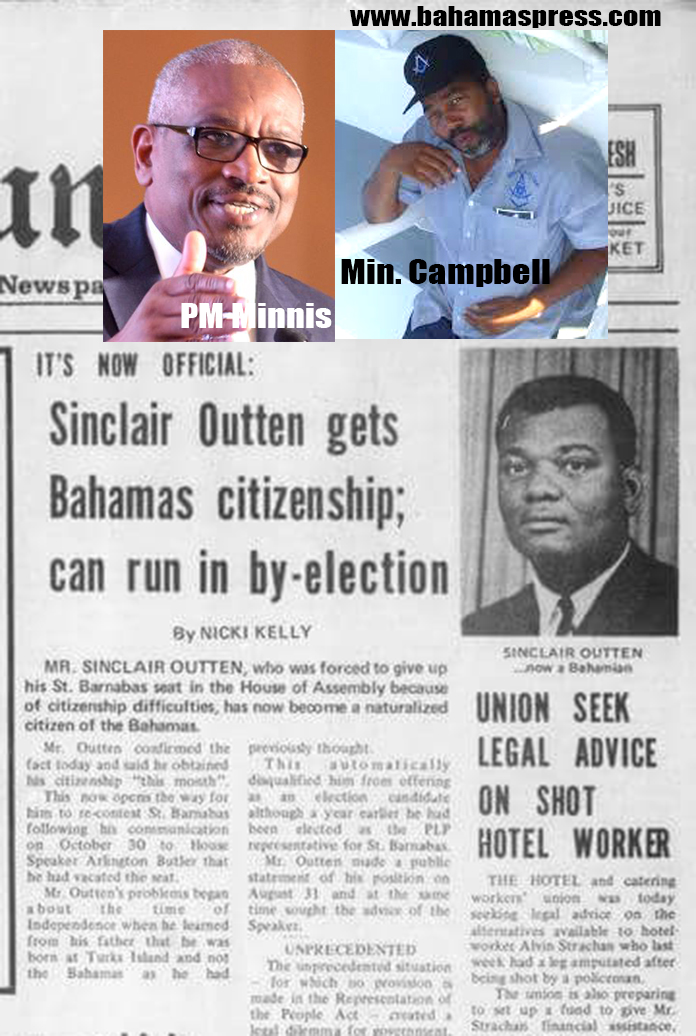 Nassau, Bahamas – Sources deep in the Cabinet Room tell Bahamas Press Prime Minister Hubert Minnis will not offer his Cabinet Minister any special status arrangements if it is discovered that his election to Parliament is challenged.
An ongoing distraction, which has been haunting the Minister for Transport Frankie Campbell, has now gripped national headlines because a potential legal matter could develop over his status, and by extension the legitimacy of his election to Parliament.
The matter over the status of the Minister began when he first presented himself on the Darold Miller Show on ZNS 1540 AM, and exposed his heritage to the world. On that show Minister Campbell revealed that he was one who possessed two passports after telling a story of how his mother had come to the Bahamas illegally.
Following those comments, former Senator, political activist and noted Justice of the Peace Rodney Moncur began deep investigations, which further revealed that it is arguably quite possible that serious breaches may have occurred as to how the Minister obtained a passport and further status in the Bahamas. Mr. Campbell has long had a career on the Royal Bahamas Police Force and served on a diplomatic mission in Haiti.
However, a document shown to Bahamas Press revealing an Affidavit of Birth detailing limited evidence suggests that Minister Campbell didn't have any roots in the Bahamas save that of a man mentioned to be the father.
That deceased man, the late, Edwin Campbell, is listed as the "putative father of Frankie Alfred," who we now learn had passed during the time the affidavit was drawn up back in 1983. There was no record of the birth in any of the government facilities nor has there been listed any records of primary education.
What is most interesting, though, is that the document was never filed and recorded for submission before the Registrar General's Office until in May 21st, 2012, long after Mr. Campbell is believed to have possessed a passport.
Sources close to the situation told Bahamas Press, "This is shocking to us and now places the entire party's process in vetting candidates under review. We must first examine whether more documents are indeed in the care of the government's recording offices, and thus, if not, then we have something not witnessed in the Bahamas since the days when a government MP for St. Barnabas, Mr. Sinclair Outten, had to vacate the Parliament due to having similar challenges.
Mr. Outten, who was from Turks Island, was later granted citizenship by the government. We understand Dr. Minnis has told persons inside his inner circle he will not make the same mistake as in the past, and will decline any such favours to anyone who may have improperly filed for the election.
Sources have confirmed to us that the matter is distracting and, according to conventions within the Westminster System, "Such distractions where a minister becomes embroiled in a dispute cannot be ignored. Dr. Minnis must address this or he will in the end suffer the blame for the fallout and embarrassment it will cause."
Meanwhile, Dr. Minnis has ordered that all illegals living in the Bahamas must vacate by December 31, 2017. The decision is not being supported by the Immigration Minister who this week supported legislation to relax immigration laws for foreign labour.
In the end, one must wonder who was Minnis talking to when he made his declaration in Parliament!
BP will further address details later this week.
We report yinner decide!