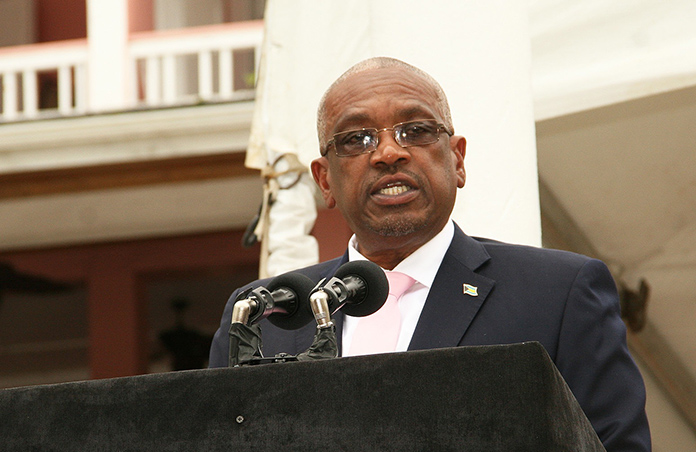 NASSAU, The Bahamas – The Minnis Administration will establish a Deliverables Unit that will be responsible for tracking projects and initiatives set out and agreed to by the Prime Minister, Press Secretary in the Office of the Prime Minister, Anthony Newbold said Tuesday (November 14).
The Unit will also be responsible for establishing timelines for the completion of those projects and initiatives set out by the Prime Minister and will have the further responsibility for "various ministers and ministries."
The establishment of the Deliverables Unit is part of the Minnis Administration's overarching plan to ensure that good governance and accountability remain key priorities of its administration.
"Good governance and accountability are hallmarks of this government of Prime Minister, Dr. the Hon. Hubert A. Minnis," Press Secretary Newbold said Tuesday during his regular weekly press briefing.
"This Unit will be handpicked and will be a combination of the best and brightest minds from the public and private sectors."
The Unit is expected to begin its work as early as January 2018.
Press Secretary Newbold further reported that the Prime Minister has begun to fulfill his promise of quarterly meetings with individual Cabinet Ministers with a view to assessing the work of individual ministries while helping to improve the effectiveness of each ministry in carrying out the Government's policies.
The decision is part of the Minnis Administration's programme of reform and transformation in governance as foreshadowed in the Speech From the Throne during the Opening of Parliament (May 2017).
As part of the programme of transformation and reform, each government ministry will be asked to develop a multi-year plan with clear, annual, metrics for that ministry, and in keeping with available finances and resources.
"These plans will be developed by senior staff and technical officers in each ministry in accordance with my Government's Manifesto commitments and related objectives. These plans will be developed with reference to the National Development Plan. My Ministers will be held accountable for these plans," Prime Minister Minnis said at the time of the announcement.
Prime Minister Minnis has already met with Cabinet Ministers the Hon. Jeffrey Lloyd (Minister of Education); the Hon. Romauld Ferrreira (Minister of the Environment and Housing) and the Hon. Lanisha Rolle (Minister of Social Services and Urban Development).