Crimes being committed by people working and have a job!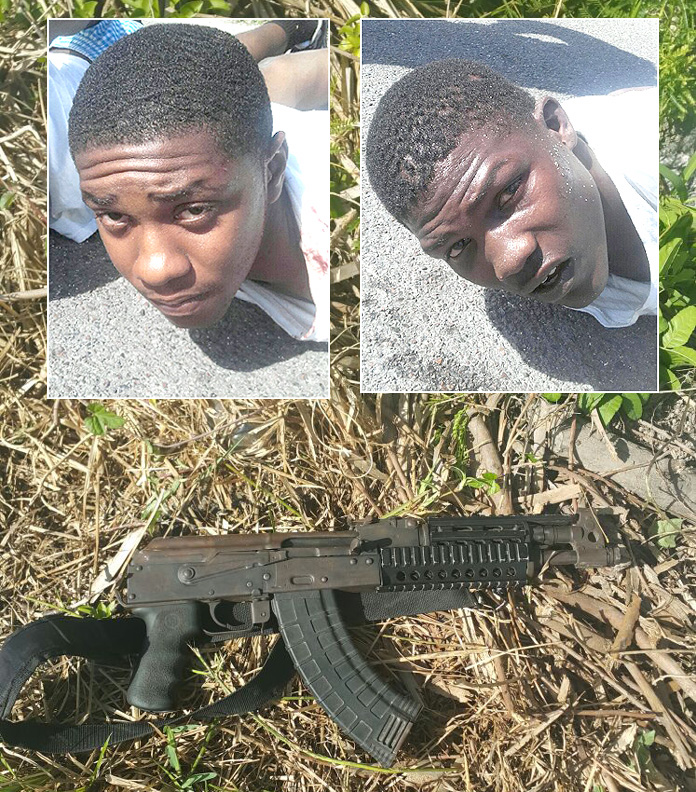 Nassau, Bahamas – Great police work is being celebrated this afternoon after patrols intercepted two men that were reported to be in an area with a dangerous and powerful weapon.
We can tell you this lockdown on the criminals was a huge success after a local citizen spotted the men driving around like Miss Daisy. A call was made into the police control 919 and within seconds mobile SWAT teams had arrived.
We can tell you that shortly after 10:30am, officers spotted a heavily tinted silver Honda Accord being sought after by the police. The officers signaled to the vehicle to stop; however the occupants refused to stop and sped off. The officers pursued the vehicle to the intersection of Columbus Avenue and Infant View Road, where the vehicle lost control and came to a stop in nearby bushes. Three male occupants fled from the vehicle on foot and two of them were caught following a short foot chase.
The officers conducted a search of the suspects' vehicle found an AK – 47 Assault Rifle with a magazine containing 29 live rounds of ammunition.
Your Bahamas Press who is always live on the scene has already identified the two suspects caught. One is, William Smith, a SPACE CLEANER at a major hotel on Paradise Island and, Ramon Brown, a maintenance worker at a major wholesale food chain on Gladstone Road.
Bahamas Press not only applauds the police for keeping us safe with their swift response, but we want to also applaud that resident who called in after seeing the 'nappi-head dreads' acting suspiciously!
What is also incredible is the fact that both young men have a job! Both collect salaries every week and are employed with companies that provide great benefits to employees. Again we at BP stress that crimes are not regularly committed because people are unemployed, but rather, by wicked people with darkness in their hearts! THIS MUST STOP!
Lest we forget – those unemployed should now check for applications at the big hotel and wholesale food place cause these jokers are now out of work!
We report yinner decide!