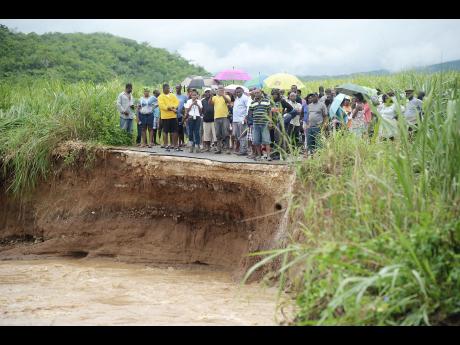 Report by The Jamaican Gleaner
Some legislators were left outraged yesterday on hearing news suggesting that Jamaica would need at least twice the damage from mid-May rains that have left, preliminarily, $5 billion in rebuilding costs, to get a payout from a regional catastrophe insurance scheme. Taxpayers pay J$780 million (US$6 million) in yearly premiums.
The lawmakers are using the development to bolster their call for a review of arrangements with the Caribbean Catastrophe Risk Insurance Facility (CCRIF), which Jamaica joined in 2007 when it was established. Jamaica has never benefited from it.
Chairman of Parliament's Public Administration and Appropriations Committee (PAAC) Dr Wykeham McNeill told members yesterday morning that based on information submitted by the Finance Ministry, Jamaica did not meet the CCRIF's threshold to get a payout even though the facility confirmed that an "excess rainfall event" occurred over the period May 15-19, 2017.
"They further advised," McNeill read from the ministry's document, "that the model loss based upon satellite data amounted to US$100 million (J$1.3 billion), which fell short of the attachment point of US$200 million. This, therefore, meant that Jamaica would not qualify for any payout.
"It should be noted that the CCRIF policy only covers built-up areas, including infrastructure, but does not include losses associated with the agricultural sector, for example."
'Disturbing' Disclosure
McNeill said that the disclosure was "disturbing", especially given the extent of the flood rains that affected at least 10 parishes, damaged hundreds of roads, washed away bridges, and left some communities submerged and marooned for days.
"They only estimate US$100 million worth of damage. It indicates to me that if you follow that model, the rains would have had to be twice as bad for us to collect the first dollar. It disturbs me because that threshold is so high, and I suspect we will be paying our US$6 million of premium every year and getting very little in return at any point in time unless we sort of sink into the sea."
Insurers will not pay Ja for losses in rural areas
Mikael Phillips, the Manchester North Western representative, said that the situation highlighted "some flaws" in the model used by the Cayman Islands-based CCRIF.
The parliamentarians were also not pleased that the insurance facility does not consider losses in rural areas.
Minister of State in the Ministry of Finance and the Public Service Fayval Williams, who also sits on the PAAC, agreed that the threshold to get payouts is high, even though attention has to be paid to what Jamaica subscribed to.
"I've called for an assessment of the policy to determine if those are the right parameters (policy conditions) for Jamaica," she said.
jovan.johnson@gleanerjm.com