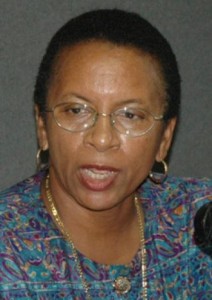 NASSAU, Bahamas — Rhonda Chipman-Johnson, PhD has been appointed as Consul-General of The Commonwealth of The Bahamas, New York, the Ministry of Foreign Affairs announced, Friday, March 11.  Mrs Chipman-Johnson will succeed Carl Smith, who has taken up the post of Permanent Secretary, Ministry of National Security.
Mrs Chipman-Johnson, former Executive Vice-President of Academic Affairs, The College of The Bahamas (COB) speaks French and Spanish fluently and is an active participant in community affairs and organizations.
She will assume her post on March 13, 2011.
After completing her tertiary education at the Government High School, she pursued tertiary studies at McMaster University, obtaining a Bachelor of Arts (Hons) in French and at the University of Toronto, obtaining a Bachelor of Education in French and Spanish and a Master of Education in Second Language Education.
In 1994, she pursued her doctoral studies at Purdue University, obtaining her PhD in Foreign Language Education.
After heading the Modern Language department at Government High School, Mrs Chipman-Johnson joined COB in the Language Department and concluded with the prestigious post of Executive Vice-President.
As Vice-President of Academic Affairs, a post she held from 1996 to 1999, she was able to introduce winter graduation and supervised the development of academic programs.  She also participated in discussions that led to the signature of articulation agreements with other tertiary institutions, including Florida International University, UWI and Youngston State University.
Between 1999 to 2010, after assuming the post of Executive Vice-President, during which period she also held the post of Vice-President Academic Affairs from 2006-2010, Mrs Chipman-Johnson spearheaded discussions and negotiations to develop various bachelor programs, including the LLB Program in conjunction with UWI and the Bachelor of Science in Pharmacy, in partnership with the University of Technology.
She also established the International Languages and Cultures Institute and assisted its Director with the establishment of a Confucius Classroom, specializing in the instruction of Mandarin and Chinese language and culture.
Mrs Chipman-Johnson has also participated in various community initiatives; she was COB's representative in The Bahamas-Chinese Association, Vice President of the Association of Tertiary Institutions of The Bahamas and other groups focusing on languages and culture.
She has been the recipient of various awards and honours including recognition of her years of service at COB and of her linguistic capabilities.
Mrs Chipman-Johnson was appointed Consul-General of The Bahamas in 2010 and was scheduled to depart for New York, Friday March 11, 2011.