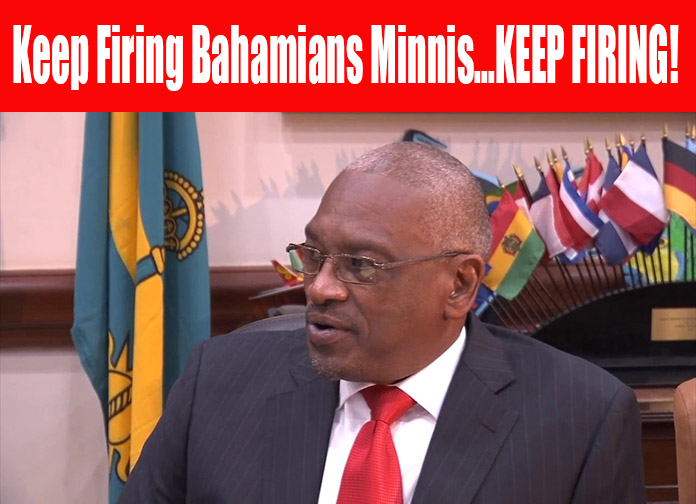 By Bradley B Roberts National Chair
Progressive Liberal Party
I am loath to respond to any speech or public commentary attributed to Prime Minister Minnis because he is a stranger to the truth and Bahamians have no legitimate reason to believe anything he has to say.
As for the FNM's August 1992 election victory, they have a right to celebrate that anniversary but their social policies over the years have led to mass social dislocation and a precipitous rise in crime and general social decay. Minnis could blame crime on the 1980's drug trade all he wants but the vast majority of the perpetrators and victims of crime are young black males in their twenties who were born during the 1990's. One of the most glaring failures of the FNM is their social policy that continues to cause this country great harm.
In his first 100 days as Prime Minister, Dr. Minnis has ordered and sanctioned the wrongful arrest and detention of BAIC workers, former PLP Parliamentarians through direct and secret political interference in the work of the police force and has engaged in mass firings of public servants based purely on politics. None of the promises he made to the poor were kept: not on VAT elimination and not on tax exemptions for inner city communities to facilitate the development of those vulnerable areas. He has no policy on Baha Mar, Grand Bahama, the unacceptably high levels of crime, environmental protection, energy sector reform or the economy. He continues to talk down the Bahamian economy locally and internationally while injuring this country's international reputation through ill-advised commentary.
He however did manage to fix up fat cat party donors and companies in which his cabinet Ministers have significant financial interests. A reduction in the business license fees place millions of dollars into the pockets of companies generating $50 million per year or more. The reduction in duty rates on washing and drying machine parts benefits D'Aguilars and Bahamasair could only find additional hangar and storage spaces in a building owned by DPM Peter Turnquest. So while Minnis and his inner circle of colleagues, friends and donors continue to benefit at the people's expense, many Bahamians continue to suffer as a direct result of the decisions of this FNM government.
His Deputy Prime Minister and Finance Minister intentionally lied to House members on the budget deficit; this is an impeachable offence. Turnquest knew better about the handling of accrued expenditure but what Bahamians could expect from a party who ran an entire election campaign on lies and deceit so why should they stop now. Absolutely nothing the FNM said during the election campaign was true and they have been walking back, back peddling and climbing down from those lies ever since the 10th May.
Minnis must abandon with his public relations stunts as he buys time, the pointless photo opportunities, the public deceit, the sleight of hands and misleading the Bahamian people and start addressing the issues that really matter to the Bahamian people.
Bahamians are worse off under this Minnis led FNM government.