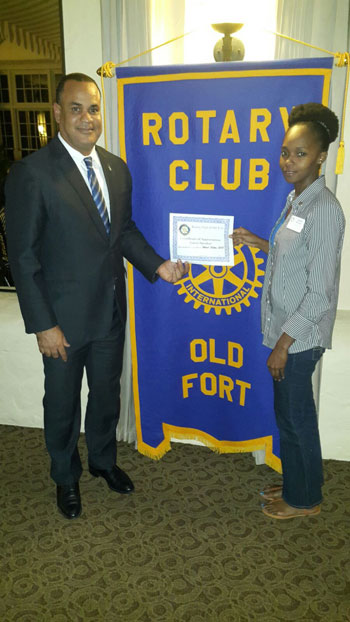 Nassau, The Bahamas – Minister of State for Finance, The Hon. Michael Halkitis was a recent guest speaker at the Rotary Club of Old Fort.
The Minister provided insight into the continuing impact of the global recession on the Bahamian economy and the government's plans to implement initiatives that drive economic growth. Minister Halkitis spoke candidly about challenges to national economic development. In particular, high electricity rates, the challenges of operating a business in The Bahamas and rising costs of living for consumers.
Additionally, Minister Halkitis acknowledged the need for transparency and accountability in the government sector in order to improve economic growth. Bruce Ferguson, President of the Rotary Club of Old Fort noted, "It's important to have this important connection with policy makers in our country. As Rotarians, we represent many industries and should be an advocate for policies that help to build stronger communities."
The club meets every Wednesday at 6:30PM at the Old Fort Bay Clubhouse in Old Fort Bay. For information on joining and staying up to date on our events please follow us on Facebook and Twitter @RotaryClubOldFort.