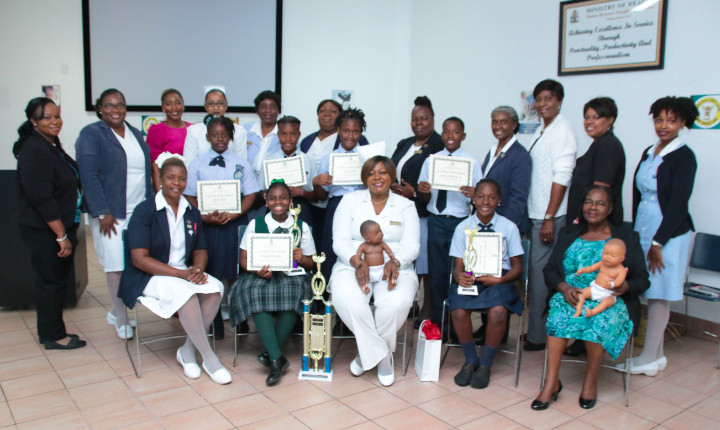 NASSAU, The Bahamas – Child protection is the business of all of us, said former SCAN (Suspected Child Abuse and Neglect) Coordinator and Retired Nursing Officer 1, Mrs. Althea Turner-Neilly at the 9th annual Child Protection Month Poem Competition Awards Ceremony on Thursday, May 3, 2018 at the Ministry of Health. The theme for this year is "We Care, We Share, Prevent Child Abuse."
Primary school students from all over The Bahamas entered but the grand prize winners were: third place, Orayon F. Tyson of Orange Creek Primary School in Cat Island; second place, Africana Knowles of Claridge Primary School in New Providence; and first place, Michaella Lockhart of Laura L. Anderson Primary School in North Eleuthera.
The topic given to the students was 'Scars Beneath the Surface'. The first and second place winners recited their poems at the awards ceremony in front of proud classmates, guardians, nurses from different clinics in New Providence and a few other proud supporters.
The winners each received a trophy, certificate, laptop, and a tablet with the exception of the first place winner who also received a gift certificate to the Mall at Marathon.