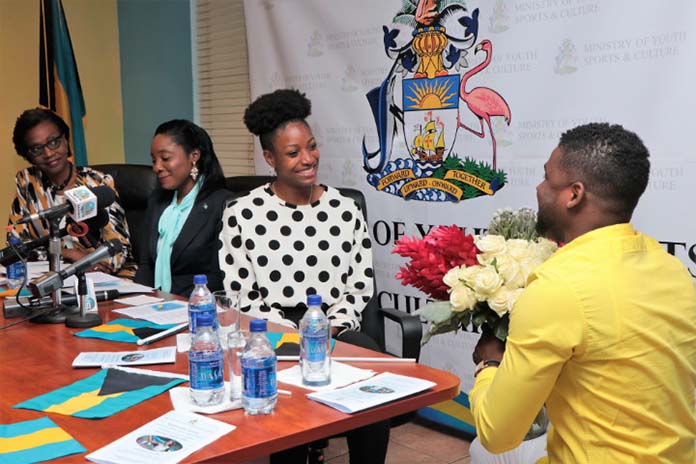 NASSAU, The Bahamas – Surrounded by cheering well-wishers and waving Bahamian flags, Olympic Gold-Medalist and 2018 Diamond League Winner Shaunae Miller-Uibo arrived at the Ministry of Youth, Sports and Culture (MOYSC) for a courtesy call that was a celebration for all present, on September 17, 2018, even those cheering and dancing to live Junkanoo music on the two floors above the building's main floor.
Minister of Youth, Sports and Culture the Hon. Lanisha Rolle told those gathered in the University Drive Head Office that "many athletes have done virtuously, today we welcome home the one, who in this season, excels them all".
Among those present and bringing greetings throughout the festivities included Minister of Education the Hon. Jeffrey Lloyd; MOYSC Acting Permanent Secretary Ms. Rhoda Jackson; MOYSC Acting Deputy Permanent Secretary and Director of Youth Darron Turnquest; Director of Sports Timothy Munnings; Director of Culture Rowena Poitier Sutherland; Coordinator for the Sports Unit at the Ministry of Education Evon Wisdom; other senior government officials; Shaunae's husband and athlete Maicel Uibo, and her father Shaun Miller.
There was also a musical serenade, bouquet and portrait presentation by two internationally-renowned and award-winning Bahamians – recording artist Julien Believe and visual artist Jamaal "The Celebrity Artist" Rolle, respectively. Wildflowers Events and Occasions created the bouquet. The Courtyard Marriott in Nassau also presented Mrs. Miller-Uibo with a "lifetime" stay certificate.
"This small island state has a sporting track record bar none, and today we stand proudly on the shoulders of these great men and women who have sealed, and continue to seal for our country, a reputation of greatness, and remain a force to be reckoned with on any stage," she noted.
"It is my humble yet considered opinion, that today, we have surpassed the gold, with our Shaunae, we have made it platinum," Minister Rolle stated. "With the help of the Almighty God, there is no stopping us now."
Minister Rolle told those in attendance that her Ministry and, in particular, the division of sports, was pleased to "welcome home" Mrs. Miller-Uibo.
"From Shaunae – the primary school runner, to Shaunae – the high school champion, Shaunae – the junior and senior girls star of the team, Shaunae – national record holder, Shaunae – regional super-star, then Shaunae – the international new comer and now, Shaunae – world leading athelete – to Shaunae, our daughter of the Bahamian soil — For your excellence in service to country, Shaunae – we salute you," Minister Rolle declared.
"Indeed, with grace, tenacity, endurance, agility and discipline, you have kept focused and you have made us proud," she added.
Minister Rolle pointed out that Mrs. Miller-Uibo managed to return home with an undefeated athletic season.
"We encourage you to continue to challenge yourself, to continue to set new goals and records for your Bahamian counterparts to utilize as a benchmark, to continue to be that example for your siblings, and for those around you, especially the athletes who look up to you and who will follow," Minister Rolle said. "Continue to make your family proud and to serve your country with pride, and most of all, continue to be you."
"Shaunae, I want you to know that more than your performances, this nation loves you and appreciates you," she added. "Win or lose, we are your lifetime fans, on your good days or your not so good days, we are your devoted cheerleaders, for now and always. We wish you the very best."
Minister Rolle told Mrs. Miller-Uibo that it was essential for her to state that the country celebrates her at the peak of her career, and the nation will always remember what she has done for it.
She said: "Shaunae, your performance, and that of your sporting colleagues, in particular, Donald Thomas and Steven Gardiner – both of whom are individually and collectively making great strides on the world stage – have inspired this year's theme for National Sports Month to be celebrated in November: 'Ain't no Stoppin' us Now – We're on the Move!'."
"I wish to say here that we look forward to the participation and support of all our available athletes both past and present, as the country pauses to recognize and celebrate our heroes of sports, then and now," Minister Rolle said. "That being said, on behalf of the Government of the Commonwealth of The Bahamas, and, in particular the Sports Division of the Ministry of Youth, Sports and Culture, we welcome home, 'our Shaunae' with this chant: Go Shaunae, Go! Go Shaunae, Go! Go Shaunae, Go!"