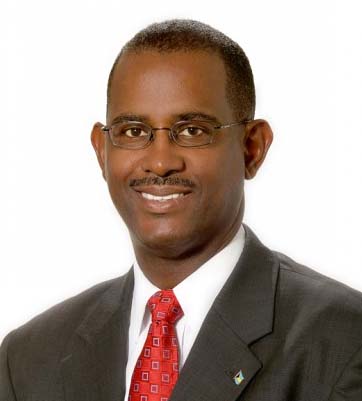 <<< Minister of National Security Tommy Turnquest.
CLICK TO LISTEN TO A REPORT FROM CABLE 12 & Island FM
Nassau, Bahamas — On Monday The Punch reported Ingraham has one week to get it right on crime. We believe it was a nice way they were telling Ingraham – come this Sunday, when it is expected he shuffles his Cabinet – Tommy Turnquest should be removed as minister of national security.
Sometime around Tuesday night and Wednesday morning reasons for this statement by the Punch became clearer. The Mount Moriah Constituency office of the Free National Movement was broken into.
Reports are vandals entered Turnquest's branch offices and raided all electronic equipment therein. Chairman of the branch confirmed the incident did indeed take place with the culprits taking off with all three computers at the branch.
Calls for the minister Turnquest to resign are mounting with the leaders of the BDM joined the chorus in saying "GO TOMMY GO!"