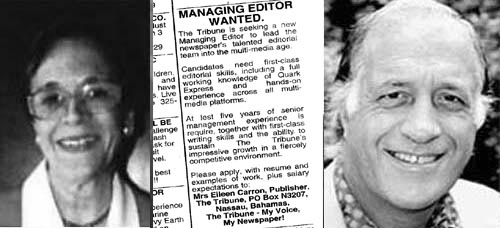 <<< Eileen Carron /Publisher and John Marquis /Managing Editor of the TOILET PAPER.
Click to listen to ZNS REPORT ON THE NEWSPAPER STOPPING Family Island Distribution,  BUT NOTHING ABOUT THE FIRINGS:
Nassau, Bahamas: There are more job cuts on the way, and last week was no exception as the global economic crisis began to take hold in the Bahamas. Last week workers at the 'Toilet Paper' Tribune received their walking papers. Bahamas Press has learned that several reporters at the paper were included in that firing exercise.
What is amazing is the fact that all of the persons released were Bahamians. WHAT A SHAME! And again for many who had forgot this is the same newspaper which said, "they had increased by 14% in circulation over last year. Bahamas Press warned at the time that that was again ANOTHER LIE BY THE NEWSPAPER!
Sales at the Tribune were so poor that they forced their circulation manager to resign. And print ad sales at the paper were down by 50%, again contrary to what they reported early this year.
Bahamas Press has also learned that more heads will roll at the Guardian before the end of the week. The Tribune is the manager of that establishment as well.
Also the 'Communist Thinkers' who asked the government to censure users of the internet, has now decided to suspend their newspaper distrubtion to the family islands and create a website. WOW, even the TOILET PAPER operators are trying their best to follow Bahamas Press.
ALL THEY NOW NEED TO DO IS STOP LYING IN THEIR REPORTS AND THEY JUST MIGHT BE THE SECOND MOST POPULAR ONLINE PRODUCT AFTER US. The paper blamed its suspended distribution to the family islands on the "Increased air transportation costs." We believe it is because of the low readership of the paper in the islands. It is known as 'FREE TOILET PAPER' in many settlements.
'Toilet Paper' vehicle being towed away. With No bathroom to carry the Toilet Papers, family Islanders will no longer get the newspaper. YIPPPPPPPPPPPEEEEEEEEE! THANK GOODNESS FOR THE RECESSION!