Pineapple Express in Nassau exposed – Residents rush to get back their money – will the Youth Officers of the FNM be arrested for their role in the SCAM?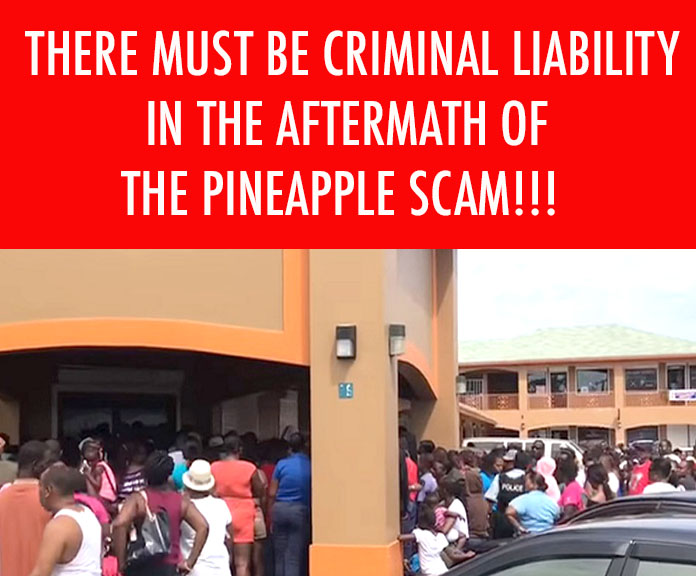 Nassau, Bahamas – What most persons caught up in the scam by Pineapple Express are not aware of is that BP knows a second individual is at the centre of the FRAUD!
Residents showed up from early Friday morning to collect their money after the Bahamas Securities Commission and the Royal Bahamas Police Force moved in on operators of the now famous Pineapple Express scam.
Several hundred residents were duped into believing that they could, for a low investment, collect hundreds within two weeks. But it was a lie! A processing/membership fee of $25 was attached to the investment leaving an addition $100, $200 or $300 pool into the membership in order to collect a proposed higher return.
Bahamas Press has now identified the operators of Pineapple Express. We have learned they are both the Youth Officers of the Torchbearers Association [The Governing FNM Party]. We also know no one has been arrested for the scam, which led residents to near riot outside the offices.
Will the Governing Party expose the rot deep inside the youth arm of the party; which has fleeced members of the public? Or will Bahamas Press have to expose the second individuals in the interest of the public? Boy ohhh BOY! Da press can't protect yinner on dis!
Did the Minister with responsibility for Gaming, Mr. DIONISIO D'AGUILAR, approve the application for Pineapple Express to deliver the scam on the Bahamian people?
BP warned authorities earlier in the week of the unchristian Pineapple scam, which held a meeting in the Cable Beach area where hundreds attended. Authorities moved in the next day, following our report. Where was 'da wutless dutty' media before all this blew up on the Bahamian people?
Will those in the youth arm of the FNM be held accountable under the transparent leadership of PM Minnis? Will they be arrested and charged? Or will they get a pass like the people in accounts at BPL in the theft of over $7 million in tax dollars. WHAT IS DIS?
When it ain't da Banks with the scamming cards at the ATM its dis? Who in this country are protecting Bahamians? Where is the consumer protection agency these days?
A second ponzi scheme, which also recently started up, Golden Chess, also abruptly closed its doors and reportedly failed to pay a red cent to any participants.
We report yinner decide!