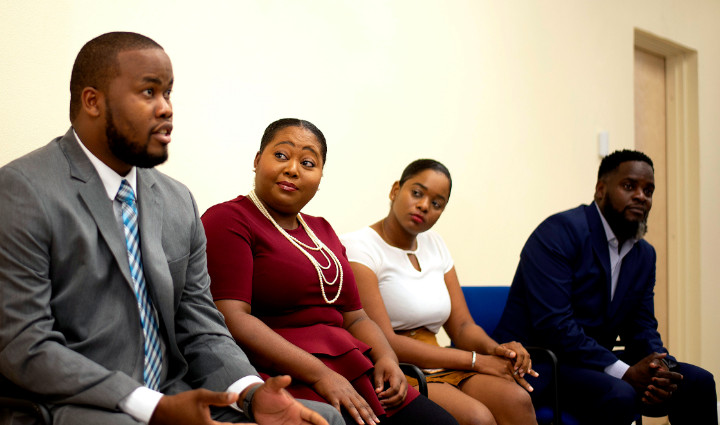 Nassau, Bahamas – The Beta Beta Lambda Chapter of Phi Beta Sigma Fraternity Inc., with major funding from the U.S. Embassy, recently held a seminar to promote entrepreneurship among young people.
The fraternity chapter at The University of The Bahamas brought in an entrepreneur from Tampa Florida who is also a retired U.S. Airforce Staff Sergeant. Daniel Smith, the owner and CEO of Awkward Media in Tampa, was the lead panelist for the seminar. Also on the panel: online media personality Alex Smith from Beauty Bunny, Yohancy Kemp from 31 Cambridge a business strategy firm, and Shanaye Smith from UnSeen Media—a boutique media company that specializes in video, photography and media management. All of them are either part time or full time entrepreneurs.
"We made a conscious effort to include an equal balance of male and female entrepreneurs this year," Chapter Vice-President Jeff Burnside said. "We wanted to have a lot of perspectives when it came to starting and running your own business and I think the participants appreciated that diversity."
The seminar was made possible by a Public Affairs Section (PAS) grant from the U.S. Embassy in Nassau.
Panelists discussed the joys and challenges of not only opening a business but sustaining a business. The panelists told the students in the RBC Auditorium at the Franklyn Wilson Graduate Center that—even though tough—the joys of being your own boss most times outweighs the challenges. Retired Staff Sergeant Daniel Smith told the participants to essentially just take the leap of faith and believe in themselves.
"I told them about the life I took after retiring from the military and turned my passion into an entrepreneurship opportunity and my business," the U.S. Airforce veteran said. "I told them to go ahead and make things happen because if you have something that others will value move forward and don't look back."
Media personality Alex Missick said she felt as if she was able to get through to the students.
"I think I was very honest in letting them know how things really work out there in the digital media space and how they can get into it," she said.
Many of the participants said they were encouraged by the seminar as they look to start their own businesses.
"The seminar was very interesting for me," participant Drexel Gomez said. "As an aspiring entrepreneur it really pushed me to get out of my comfort zone and really make my goals become reality. It really encouraged me and motivated me to see my goals through and stay on top of my game."
Entrepreneurship is a part of the fraternity's international Bigger Better Business program and is one of the oldest programs for the more than century-old organization.
"The mission of the International Bigger & Better Business Program is to promote and support minority and small businesses along with encouraging sound financial practices," Burnside added. "The promotion of entrepreneurship is a big part of this program and it has become a staple of the chapter to push this type of financial independence".
The Beta Beta Lambda chapter of Phi Beta Sigma was the first Black Greek Lettered Organization chartered on the UB Campus and is celebrating 14 years of existence this month. The chapter was chartered November 5, 2004.