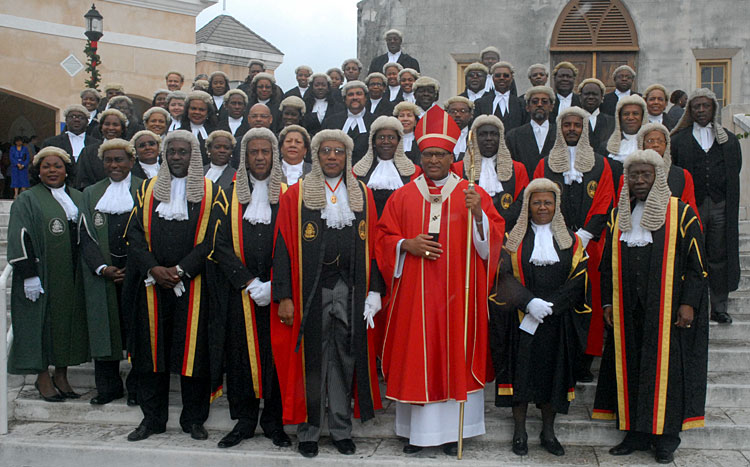 Members of the legal fraternity and justices of the Supreme Court attending the annual Red Mass in St. Francis Cathedral along with Archbishop Patrick Pinder. (File Photo)
Nassau, Bahamas: On July 25, 2005 exactly three years ago a Bimini resident Frederick Cardinal Francis, 22 at the time allegedly brutally raped and killed Austrian tourists Bernhard von Bolzano 34 and Barbara Frelin von Perfall, 32 whilst the couple were vacationing on that island. Francis was on bail at the time of the murders, on another separate sexual offence.
Police at the time of the murder confirmed that Porgy Bay resident was taken into custody where authorities discovered in his possession a 12-gauge Maverick shotgun believed to be the murder weapon, along with some of the victims' belongings.
This violent death on that island where Ernest Hemingway discovered his fountain of youth sounded like a bad dream. The honeymooning couple – with royal ties – were both slaughtered in the most heinous way, by an individual on bail in The Bahamas?
Wasn't bad enough here in The Bahamas to have murders slaughtering residents left, right and centre? When will this cruel and wicked assault on the innocent of our society end?
Police, civilian and these days TOURISTS are gunned down in cold blood by these 'HEARTLESS NIGGERS' given bail over and over again. And yet the justice system of the land is grinding to a slow snail's pace all because someone in the attorney General's Office is in concert with the police prosecutions department, trying to figure out what files are to be shredded next!
Three years later a murder is committed against innocent guests, the evidence has been collected, the murder weapon gathered, the forensic evidence taken and still someone hopes this MURDERER is given bail? Come on Bahamas we can do better, far better than this! Our society his fed up with this cruel assault on innocent people. And if we cannot get our act together, it is certain the people soon will. And if not already, they will begin to take the law into their own hands and fight this evil that has our judiciary paralyzed and thrown crippled in a corner.
Perhaps Bahamas Press should begin add CNN and FOX to our broadcast list to cause some speed to began with the process of action in this town. Isn't bad enough already to have tourists slaughtered in their bedroom whilst vacationing in The Bahamas? Or are we waiting for Greta Van Susteren to join in the conversation on her live broadcast to tell the world our hidden story? This double murder was worse as the still missing American girl, Natalee Holloway in Aruba. The only difference here is that her incident was being covered and hammered by the American media.
We were sadden when we read a letter published in one of the WUTLESS dailies on Friday August 8th, written by Ernest Rumer, the Honorary Consul of the Republic of Austria. The writer gave us Bahamians something to think about, and ignited the energy presented in this piece. One must seriously consider that The Bahamas already having the number one raking status in the world for rape should take more seriously its level of crime, and speed up its systems of justice. Particularly on MURDER that has placed a heavy and DARK, DARK CLOUD over our country.
Rumer concluded, "…there is a man in Austria, whose daughter was killed on a dream vacation in Bimini, who is devastated for life…"