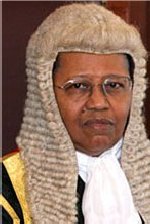 WHEN WE WROTE THIS STORY BACK IN SEPTEMBER, THE NEXT MORNING THE DAILIES WERE OUT DEFENDING THE SITUATION AND DENYING OUR CLAIMS.
NOW WE KNOW TODAY THE JAMAICANS WILL BE WORKING AT THE PORT, EXAMINING OUR PORT SECURITY AND REVIEWING OUR SYSTEMS.
WE ASK ONE QUESTION THOUGH TO THE MINISTER OF NATIONAL SECURITY, HAS HIS GOVERNMENT HIRED THE HUSBAND OF THE NEW DPP? IF SO WHERE IS HE IN ALL THIS??? ANSWER QUICKLY BECAUSE YOU KNOW WE ALREADY KNOW AND ARE READY TO REPORT TO THE PEOPLE WE SERVE!
Nassau, Bahamas — We have information coming into our breaking news desk that indicates more foreigners are set to be appointed at the AG'S office. We ask the question, why is the Hubert "Mugabe" Ingraham led Government anti-bahamian? We have been advised that upon the retirement of Justice Dame Joan Sawyer as President of the Court of Appeals, Justice Christopher Blackman is allegedly set to take over from her. We are further advised that his wife will be set to take up a position at the Attorney General's Office.
Are there no Bahamians among the more than one thousand attorneys in this Country good enough?. We cry shame on this wutless, uncaring Government.
We are being told of the employment of the newly- appointed Director of Public Prosecution husband at the Royal Bahamas Police Force. We have been told that he has allegedly been granted the rank of Inspector. If this is so, why has this information been kept secret?. We call on the wutless and hapless Minister of National Security, Mr. Tommy Turnquest to confirm or deny these reports.
We are again advised that an additional 9 Jamaicans may also have been employed. While this may be of a clandestine nature, surely, we the public, who pay the salaries need an explanation.
We call on all right thinking Bahamians to register to vote and rid ourselves of this wutless government, who seems hell bent on dispossessing Bahamians in favour of any foreigner.
We need change Bahamas.