PM Minnis Arrives in Grenada for Start of CARICOM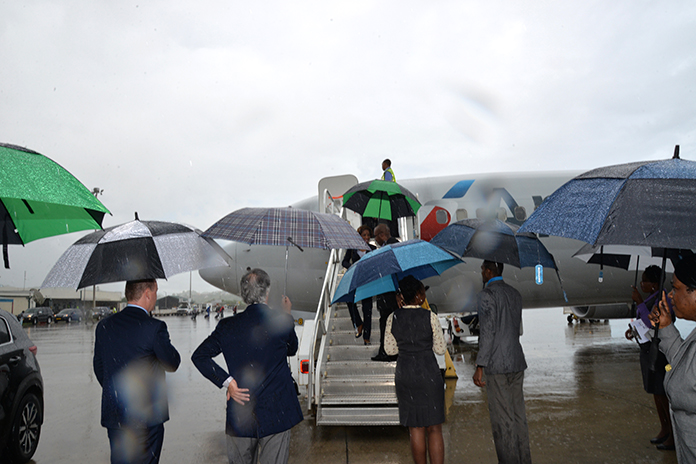 ST. GEORGE'S, Grenada – Prime Minister, Dr. the Hon. Hubert Minnis and his delegation arrived in St. George's, Grenada, Monday afternoon, June 3, ahead of Tuesday's start of the 38th Regular Meeting of the Heads of Government of the Caribbean Community (CARICOM).
The CARICOM Heads of Government Meeting will take place July 5-6, 2017, at the Radisson Grenada Beach Resort. The Opening Ceremony is scheduled for Tuesday, July 4, at the Grenada Trade Centre during which time the Community will welcome Prime Minister Minnis (sworn into office May 2017) and President of the Republic of Haiti, His Excellency Jovenel Moise (sworn in as President of the Republic of Haiti February 2017) as the two newest CARICOM Heads of Government.
Prime Minister Minnis arrived in Grenada accompanied by his wife, Mrs. Patricia Minnis. The Bahamas' delegation includes the Hon. Darren Henfield, Minister of Foreign Affairs; the Hon. Jeffrey Lloyd, Minister of Education; His Excellency, Joshua Sears, Senior Policy Advisor to Prime Minister Minnis; Mr. Reuben Rahming, Bahamas Ambassador-Designate to CARICOM; and Mrs. Sharon Haylock, Director-General, Ministry of Foreign Affairs.
Prime Minister Minnis is scheduled to deliver his inaugural address as a CARICOM Head of Government on Tuesday evening during the Opening Session.
That address is expected to touch on a number of matters including Regional Security and Cooperation; Tourism; Climate Change and its negative impacts, and new anti-corruption laws and measures that will be implemented in The Bahamas designed to make it easier for investors and businesspersons to conduct business in-country.
Prime Minister Minnis is the CARICOM Head of Government with responsibility for Tourism.
The 38th Regular Meeting is expected to include a presentation for approval by the Heads of Government of a Human Resource Development 2030 Strategy and Implementation Plan to address the development of skills for the 21st century Caribbean economy and society.
The Heads of Government are also expected to deliberate on outstanding matters related to the implementation of the CARICOM Single Market and Economy (CSME) following the comprehensive review of the CSME's performance presented to them at February's Inter-Sessional Meeting, and hear about the progress made regarding implementation of the specified actions, agreed to ten years ago under the 2007 Port-of-Spain Declaration, to stop the epidemic of Non-Communicable Diseases (NCDs); Tourism in the region; and Future Trade Relations with the United Kingdom. Regional Security issues are also expected to receive attention.
The Caribbean Community (CARICOM) is a grouping of 20 countries – 15 Member States and five Associate Member States and is home to approximately 16 million citizens, 60 percent of whom are under the age of 30. It stretches from The Bahamas in the north to Suriname and Guyana in South America.
CARICOM came into being on July 4, 1973, with the signing of the Treaty of Chaguaramas by Prime Ministers Errol Barrow of Barbados; Forbes Burnham of Guyana; Michael Manley, Jamaica; and Eric Williams, Trinidad and Tobago.
The Treaty was later revised in 2002 to allow for the eventual establishment of a single market and economy.
The Community rests on four main pillars: economic integration; foreign policy coordination; human and social development; and security aimed at: improving standards of living and work; the full employment of labour and other factors of production; accelerated, coordinated and sustained economic development and convergence; expansion of trade and economic relations with Third States; enhanced levels of international competitiveness; organization for increased production and productivity; achievement of a greater measure of economic leverage; effectiveness of Member States in dealing with Third States, groups of States and entities of any description; and the enhanced coordination of Member States' foreign and foreign economic policies and enhanced functional cooperation.