Bahamians must slow down…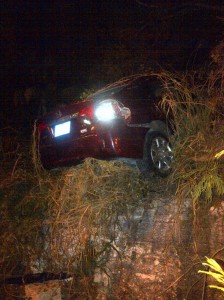 NASSAU, BAHAMAS — A young woman is thanking GOD with BP this morning after she escaped death
.
The driver of a red Honda was travelling south on Milo Butler Highway when her car swayed out of controlled and flipped 100 years up a ridge opposite Coca Cola headquarters.
The young woman walked out of the car without a scratch unscathed after the car flipped several times before coming to a stop.
WHAT A GOOD GOD WE SERVE! AMEN!!!
MARIJUANA PLANTS DISCOVERED AT LONG ISLAND
A small amount of suspected Marijuana plants were discovered at  Long Island on Monday 8th April, 2013.
According to reports shortly before 6:00 pm officers at Long Island acting on information proceeded to the settlement of Cartwright's off Queens Highway, where they uncovered the plants.
No arrests were made in connection with the incident. Active police investigations continue.